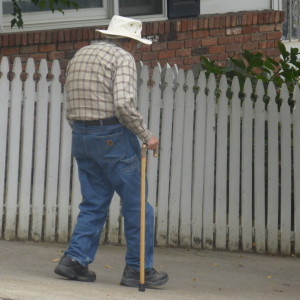 As we turn into the 1980s we have two men who are at the top of the Winter Hill Group, James "Whitey" Bulger and Stevie Flemmi. The others in the group who were in a leadership position have been incarcerated, are on the lam, or as in the case of Jimmy Sims not to be heard from again.  The first move that Whitey and Flemmi made was to move their operation from out of Somerville since the guys from that area were no longer players. They moved their operation to Lancaster Street which was in Boston's North End right around the corner from the old Boston Garden.
There they would set up operations right in the heart of the Mafia's home base. Observations of them showed that they and the Angiulo Mafia group  were on friendly terms.  It appeared they made weekly payoffs to the Mafia. The Lancaster Street location was where they also received tribute from those who worked under them. They would move from Lancaster Street after they were tipped off that it was being watched by the state police. Whitey having cleared the deck in Southie moved back home into his neighborhood and took his new hard buddy Stevie Flemmi who was a capable replacement of Billy O'Sullivan.
Until Whitey came back in Southie he had left it under the watch of Pat Nee who was his partner in the operations.  It was good timing for Whitey because Pat Nee was not keeping his mind on the family business but was becoming more and more involved with doing all he could to help the Irish Republican Army (IRA) in its fight with the British in Ireland.  Whitey would be able to attend to business while Nee spent his time otherwise.
All of the eight murders in these three groups occurred after Whitey had gone back to South Boston between 1981 and 1985. Two were in 1981, three in 1982, and one in each of the three following years. Whitey would operated out of the Triple O's on West Broadway next to Broadway MBTA station; he'd move some of his operation over to the South Boston Liquor store at the Old Colony Avenue rotary in 1984.
Whitey at the time of the move is entering his early fifties. He has control of a large criminal gang involved in gambling and its associate crimes such as lending money at high rates of interest and using violence to collect from what are considered "dead beats." He's not threatened by anyone and is aware that the feds have just finished a wiretap investigation on the Boston Mafia that will end up putting the Angiulo family group in prison.
He  has been in contact with FBI agents Connolly and Morris for over five years and is fairly confident they are protecting him; Stevie has State Trooper Richard Scneiderhan protecting him on the state side; then there are the local Boston cops who seem to present no  problem but he is wary about the Quincy cops.
It is during this time that he engages in the eight other alleged murders. They are divided into three  groups. The first is the World Jai Alai (WJA) Group where two men were murdered by John Martorano. These murders took place in Oklahoma and Florida. Martorano had been on the lam living in Florida  when John Callahan asked him to murder the owner of WJA Roger Wheeler which Martorano did for fifty grand. Then when he thought the heat was closing in he offed Callahan.
The second group is the Informer Group. These are a group of four men who were murdered to shut them up, or in the case of one, Michael Donahue, who happened to be in the wrong place at the wrong time with the wrong person Brian Halloran. Halloran was trying to get himself out of the jackpot, he was facing first degree murder charges, by putting Whitey into it. Halloran knew he could only get a break if he brought in someone who was higher than him so he picked out Whitey.  The other two, Bucky Barrett in 1983 and John McIntyre in 1984 were killed at the home of Pat Nee's brother and buried in the basement.
The last group, with the victims being murdered at both ends of this murder period, were Debbie Davis in 1981, and Deborah Hussey in 1985. ThIs is the Ladies Group. The big connection between these murders is Steve Flemmi since both women had been in sexual relationships with him that had ended or were about to end. Flemmi liked to bury women who fell out of favor with him. He'd tell the gullible prosecutors that another made him do it. And you know what? The prosecutor believed him.
Now that I've put the murders in the context of time and place I'll talk in greater detail about them. Unlike the prosecutors I'm not out to get anyone; I'm just trekking toward what I believe is the truth.