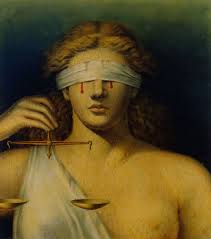 Yesterday I wrote about the power of five — a five judge majority on the Supreme Court deciding for us what we must do without any restrictions on it .  I explained how the doctrine of stare decisis had pretty much been abandoned when it is accepted it is the philosophy of the Court that will decide the law and not any prior precedent. I've noted before what I was told by a wise lawyer many years ago that: "the law is what the judges say it is.".
I also referred to an article by Linda Hirshman suggesting that if the Republicans block Obama's nominee he will still win in any event.  Her argument is that with the Court divided by four liberals against four conservative then any decision that results in a 4 to 4 tie means that the lower court rulings will be allowed to stand.
She goes on to note in a cavalier manner that "Most of the country, though, is governed by appeals courts dominated by Democrats."  She accepts the fact that the courts are no longer neutral arbiter of the law and facts but have become arms of political parties and their philosophies intent on pursuing their agendas. She adds that "Two-thirds of the people in the country live in blue-court America."
George Will pipes in and notes: "The United States today is one Supreme Court vote away from a radical truncation of the First Amendment's protection of freedom of speech. A Democratic president in 2017 would nominate to replace Scalia someone pledged to construe the amendment as permitting Congress to regulate political campaign speech, which would put First Amendment jurisprudence on a slippery slope to regarding all speech as eligible for regulation by the administrative state."  
In an earlier article he spoke about the Democrat candidates desire to limit free speech.   He  noted: " government that is competent and duty-bound to . . . promote social justice is competent and duty-bound to regulate the marketplace of ideas for the same purpose." 
Following his logic if the Court could find new rights in the 14th Amendment that never existed before it could also find that speech which interfered with those rights is not protected. Will called attention to the remarks of Justice Rogers Brown who said that "People who are eager to weaken protection of private property in order to enable government to redistribute wealth will also want to weaken constitutional protections of free speech in order to empower government to redistribute ideas."
That is the slippery slope we are heading for. If the Court decides what the law is then it can decide that the First Amendment free speech is limited to certain approved areas.
Linda Hirshman argues that it is better for the Republicans to accept a liberal judge than for the Court to be stuck with a four to four deadlock. She writes that would be better: "than nearly a year of living with the appellate courts going wild while the cat's away. Imagine the glee in the most-reversed circuit court in the nation, the liberal Ninth, which will now be able to tell Arizona and Alaska what to do without fear of contradiction."
Of course her position is sheer folly for the Republicans to follow. It is better to suffer a year of our federal appellate courts imposing their own personal liberal ideas on us than twenty years of it. Hirshman ends by saying: "If Obama really cares about that legacy, nothing would establish it more firmly than using his unexpected advantage to appoint someone who will one day be as much of a hero to liberals as Scalia was to conservatives." Like all liberals Hirshman is salivating at the idea of a "new America."
Our country is perilously close to having a Court that reflects the view of a small minority of progressives and imposing its will on all of us. The great redoubt Scalia who stood against this has fallen. Only a Republican president can stand against the opening of the sluice gates of new rights flooding our land. Too bad there isn't one of them in line for the nomination (as you know it most likely will be Bush) who can defeat Clinton.