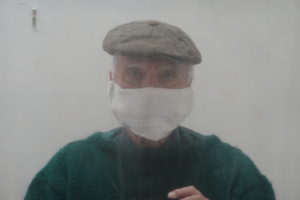 Seems to me that what I recommended some time ago and to which a great objection was made by some that it would be wise to wear masks to minimize the transmission of Convid-19 has now become the official position of the U.S. government. I also notice that many are making homemade masks which I also urged people to do.  I don't expect the naysayers to reconsider their objections but in reading a book by Bruce Catton about the Civil War called  A Stillness at Appomattox  I figured out why. He tells the story of a Vermont politician Colonel Stephen Thomas who was opposed to using force against the South. He joined the Union army and became a colonel and fought in many battles. When he was home on furlough his was chided by his former associates for changing his position. ""Thomas, you've changed," they complained. "We haven't." A true Vermonter Thomas replied: "Fools never do.
The book tells about the extraordinary courage of General Philip H. Sheridan and how he single -handedly was responsible for some of the Union's great victories because he was always out front in battle showing through his example the courage against enemy fire. One thinks how true it is that one leads by example. Then we have Trump. The CDC recommends we wear masks to help prevent the spread of Covid-19. Trump for once having the chance to show leadership flubs it by saying he is not going to wear a mask. So now many rubes will want to be like Trump and the virus will continue to spread. Wearing masks will be the opposite of the MAGA hats – going about increasing the chances you infect other people will be the hallmark of the Trump Team.
Did a little looking at figures. Compared US with Italy and Spain in deaths starting about the time each country hit near 4,000. Here it is:
US               Italy               Spain
3873           4032             4154
4757            4825            4934
5850           5475             5812
7087           6077            6606
We were a hundred or so less than the others at the start of this four-day period. We are now a few hundred ahead. Italy's rate of increase was about 10 to 11%; Spain's was about 12 to 15%; the United States is 17 to 19%. It does not bode well.
These stark figures call for forceful action. Trump and his team are offering luke warm responses that lack teeth. If an enemy was invading our country and we needed more soldiers to join our armed forces would we be "recommending" that they join or would we be forcing them to join as we've done in the past with a draft.
We do need leadership. We aren't getting it. No once can say Trump is doing or has done a good job looking at the number of deaths now occurring in our country.