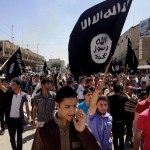 I woke to the news today about the nation that was relatively stable until we adopted it and since that time has acted our prodigal and disobedient child.
We supporting putting Maliki in charge of this nation but we now want him out. (Shades of Vietnam) "He ain't going to be prime minister," a high State Department official said.
Maliki himself was always in favor of the U.S. imposed democracy as long as he could remain as its leader. Now that despite our disclaimers we are squeezing him out of office he's squealing like the pig he is and calling in his army to support him. Iraqis special forces have come into Baghdad and taken up positions in the capital. When I read that I was ready to throw up. It encapsulates the whole American benighted policy with Iraq and the Middle East.
Maliki's country is in a fight for its life and its special forces and other elite army units are hanging around Baghdad. Why aren't they off fighting the Islamic State, ISIS, which has captured a wide swath of Iraq between Baghdad and the Kurdish north including Mosul and now the Mosul Dam which if it decides to destroy may cause up to 500,000 deaths.
It's reported that if Malaki leaves his successor is going to be Haider al-Abadi. He is deputy prime minister under him and a spokesman for Maliki's Dawah Party. The other day he said: "We are waiting for the Americans to give us support. If US air strikes [happen], we don't need Iranian air strikes. If they don't, then we may need Iranian strikes." He's willing to go over to Iran in a New York minute.
Haider al-Abadi is no change from Maliki? Iraq's is playing Three Card Monte with us. The Bush/Obama policy on Iraq has given rise to widespread terrorism, the destruction of minority religious groups, and utter madness. It's time for a change but we lack the leaders and leadership in America to get us out of this quagmire.