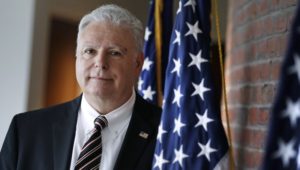 There it was in front of me. An article on Fred Wyshak. It wasn't in the Boston Globe his long time supporter but an AP article in the Boston Herald. When I first looked at the photograph accompanying it I did not recognize Wyshak. He's aged. He's wearing his American flag pin. He has a wry smile hinting to his disappointment that he never got the big fish he was after.
Thirty years. A lot accomplished on one hand yet on the other we cannot but fail to recognize that unlike Ahab he never had a chance to catch up with his Moby Dick. His Pequod, the Boston U.S. attorney's office, despite roaming afar over the oceans of criminality using the most modern of tools  and inventing new ones, had no  chance of finding his target.
It was simple to explain. He was never in that ocean. It's as if Ahab set out after an imagined whale and no Moby Dick existed. It is impossible to catch something that exists only in one's head and the heads of others who urged the pursuit. How would we read or would we have never heard of Melville's book if Moby Dick was a figment of the mad mind of Ahab.