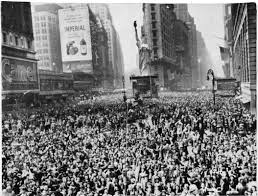 Trump is telling us that he has brought about a great success in the fight against Covid-19. If it wasn't for him – if some other president was in office – we would have over 2 million deaths from Covid-19. That we have only 100,000 – only 100,000 or almost twice as many deaths as happened in the Vietnam War –  Trump considers quite a victory.
Where are the crowds on the streets celebrating this victory?
Yes, Jared Kushner had it right – Trump's senior adviser and son-in-law – said  "the federal government rose to the challenge and this is a great success story and I think that that's really what needs to be told."
Where are the crowds on the streets celebrating this great success? Where are the Mission Accomplished signs? Is there any other president who can say he presided over 100,000 deaths of Americans in three months?
Above is a photograph of Times Square on V-E Day when Germany surrendered? People poured out into the streets all over American in celebration of our success on the European theater. There was still a war going on in the Far East with the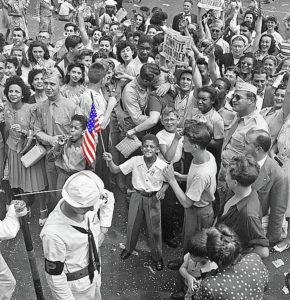 Japanese Empire. Japan would surrender in August. Again, as shown on the photograph to the left the people jammed Time's Square in celebration of victory over Japan, V-J Day.  The country had finally stopped fighting since Pearl Harbor was bombed, the day of Infamy, on December 7, 1941.