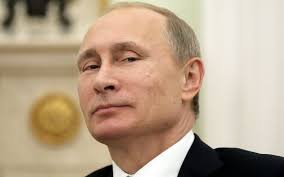 On Friday the front page of the New York Times told how the Justice Department accused Russia of interfering with this year's election. It unsealed a criminal indictment against Elena Alekseevna Khusyaynova, 44, of St. Petersburg,. It charges that she was involved in an effort "to spread distrust toward candidates for U.S. political office and the U.S. political system."
Then I wondered, was she the 400 pound individual Trump referred to who was sitting alone in her basement hacking around with her computer. You'd have to agree if that was the case that it was pretty good she could have done that by herself. If that was so, why are the Russians being blamed if this was a lone wolf operation.
Reading on in the article I discovered: "Ms. Khusyaynova managed millions of dollars for a company owned by Yevgeny V. Prigozhin, a Russian oligarch sometimes called "Putin's chef." " That left me a little confused. Was she a restaurant manager? It would seem a chef's company would be a restaurant. That wasn't the case. Apparently Prigozhin did other things than cook food. He cooked up mischief against the United States during the 2016 election for which he was indicted in February.