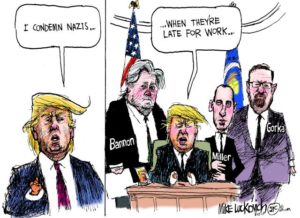 "Heil" some shouted. Many others gave the Nazi straight arm salute. 'Hark, Hark, the dogs do bark. The haters are coming to town."
Like Senator Orrin Hatch I had a relative, uncle and Godfather, killed in uniform during the war: James Rogers. Other uncles served in uniform to fight the Nazis with their message of hate. I'm told one of my uncles wrote , "onward to Moscow."  Did anyone in Trump's family ever serve? Perhaps that explains his fondness for the Nazis and Putin.
You know that Trump knows how to fire out tweets within minutes at people he doesn't like. A CEO tweets a resignation from one of his boards and within an hour he's tweeting back saying the CEO's pharmacy company is ripping off  people. I'm sure all will agree he's quick on the tweeter.
Except when it came to the Nazis. I use the generic term Nazis to cover all those like the KKK, white supremacist group, and other so-called alt-right who gathered in Charlottesville Friday August 11, 2017, and the Saturday next, for the ostensible purpose of protesting the removal of the statue of General Robert E. Lee.