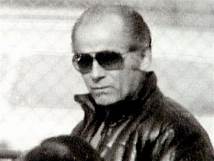 Jerome wrote me an email which he does probably once a month asking me some questions which relate to the gangsters in and around Whitey Bulger. Most recently he ended his email saying: "Of course feel free to address these things on your blog if you care to." That appeared to me to be a good suggestion. I thought there may be others who are interested in these matters as well.
I emailed back saying I would use the blog to answer some of them. Jerome who sticks to the gangster stuff reminded me that that the original purpose of the blog was to deal with the gangsters and Whitey. I've toyed with the idea of setting another blog specifically dealing with gangsters, but I have not taken the steps to do so up to now.
The Jerome's email of recent days is: "Hello Matt  Have you finished your Irish Gang War book? If so release in fall of 2021?
Also I know you have been critical of the book Black Mass and Deadly Alliance. And you have addressed some of your issues in your blog posts regarding these two books. My question is – Does your new Irish Gang War book fill in the gaps and share the "truths" not in the twins oks:
2) Do you think Whitey Bulger took any secrets to the grave regarding his crimes and if so what do you speculate that they are?
3) Is Steve Flemmi somehow the "toughest" gangster of his era given he was never killed and outlasted so many of his peers. From a gangster perspective"
I wrote back telling Jerome that I expect the book to be on Amazon this summer. The folk who have read it in the publishing industry think it is too local of a story for them. I cannot disagree because it was written as a prelude to a book about Whitey.
The book Deadly Alliance by Ralph Ranelli I did not recall having many issues with. It is a must read for those interested in these matters. I will have to go back to it and see where I may disagree with it which I will soon.
Of course Black Mass is a different kettle of fish. Much of it was animated by animosity and within it are made up quotations. The book makes up a scene to fit its belief. The major problem aside from that is it treats James "Whitey" Bulger as a master criminal back when he is hardly a blip on anyone's radar screen.
And, of course, its constant attempt to weave his brother Bill into Whitey's nefarious, though highly unspectacular, activities. It tried to make Whitey into something he was not so that it could smear Bill.
Black Mass in chapter one which I discuss here is all made up especially where they attribute quotes to people drawn out of thin air. It opens with as scene at Wollaston Beach where Whitey meets John Connolly in the fall of 1975. It tells how Connolly made Whitey his informant by saying the Mafia was planning to set him up using bad cops or to hit him. If that was his pitch Whitey would have known that it was nonsense.
In 1973 and 1974 Winter Hill of which Whitey was a member worked closely on behalf of the Mafia murdering the Notarangelli gang which was a threat to the Mafia. There was no animosity between Winter Hill and the Mafia that would endanger Whitey. If there were the target would have been Howie Winter, its leader, not Whitey. The authors of Black Mass pretty much admit they set out a fairy tale when at the end the chapter they note, "one of Bulger's first reports was the warfare and bloodshed supposedly pending between Winter Hill and the Mafia had fizzled – much ado about nothing."
How could Whitey earlier in the month be convinced to be an informant because of a supposed Mafia planned warfare yet by the end of the month say there was nothing to it. That makes no sense nor does the idea that Whitey became an FBI informant because he feared being set up by Angiulo who would have some Boston cops plant something on him. The FBI could not protect him from the Boston cops.
Black Mass tells of the 1972 episode with Condon saying Whitey gave him "extensive inside information . . . on an Irish gang war that was dominating the city's underworld." There was no Irish gang war or any gang war dominating the city at that time. The so-called Irish gang war ended in 1967.
It never addresses how it was that Whitey and Stevie Flemmi came to work together. It says, "Bulger blended in Flemmi and a package deal was forged" with Connolly, How does he blend in a guy who has been an informant for the FBI for ten years. If anything, it would have been the other way around.
It has Whitey as the "legendary Whitey Bulger" in 1975 when he was known to few and later refers to him as a "midlevel gangster." That's just some of the errors in the first chapter.
I realized I did not answer Jerome's questions having again addressed the Black Mass fairy tale. I'll get to them tomorrow.