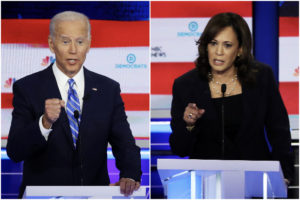 (continued from Friday)
How does busing stand now that the issue has arisen again during the Democratic debate. Harris when she first went into her attack setting up Biden reminded me of someone saying "I know you don't beat your wife but when did you stop doing it."  She said that "I know you're not a racist" but then accused him of being one by being against busing. She did this based on her assumption that to be against busing black and white kids to and fro is racist because she as a black girl was bused and benefited from it. Does it follow that every black girl who was bused was better off because of it? Does it follow that had she not been bused she would not have managed to achieve the same results?
What made Biden seem defensive and uncomfortable was his acceptance of her premise. Rather than saying he was against busing because he did not think it benefited anyone – to quote him: "White parents were terrified that their children would be shipped to the toughest neighborhoods in Wilmington; black parents were terrified that their children would be targets of violence in suburban schools"  – he  waffled. He differed the busing because of the entity implementing it (federal government vs local city) – he later said he was for voluntary busing which wasn't the issue on the table. The Berkeley plan did not have many white parents who volunteered to leave their comfortable schools in which they were in the great majority. Six Berkeley schools had over 92% white enrollment.
Biden tried to distinguish the indistinguishable rather than sticking to his long-held beliefs that forced busing was wrong. He could simply have said "yes, Kamala, it was good for you but not so good for many others. That's why I opposed it and do so today. There are many better ways than busing to achieve the desire end of bringing better education to all students."
That would be a better position if that is what he really believed. But an article in August 2015 tells a different story about Joe Biden. It flat-out says that Biden was motivated in his opposition to busing because his white constituents did not want their children to go to school with black children.
In the U.S. Senate Biden was up against Ed Brooke, a senator from Massachusetts, the first black senator ever to be popularly elected. Brooke thought at the time: "We had all-black schools and all-white schools, [busing] was the best thing that we had to at least desegregate the schools at that time in our history. And I thought we didn't have anything better." He fought to ensure busing would continue.
His main opponent was Joe Biden. Initially Biden sided with Brooke but having done so he was met with "the fury of his white constituents."  He was jeered by  and angry crowd when he explained his position of being against "de jure" segregation (segregation caused by state action) but not "de facto" (segregation that happened because of individual preferences.) Whether there was an actual difference between them would be a matter of debate
In 1975 Jesse Helms offered an anti-busing amendment which prohibited "the Department of Health, Education, and Welfare from collecting any data about the race of students or teachers." Biden supported Helms noting: "I have become convinced that busing is a bankrupt concept." The Helms amendment failed but Biden introduced another one that would have just about the same effect. He would call busing "an asinine policy."  It passed. Brooke was outraged. He called the vote on Biden's amendment "the greatest symbolic defeat for civil rights since 1964."
A bankrupt concept, asinine, and not a useful tool, were Biden's thoughts about busing. He allegedly believed this because it would place "an undue burden on African-American families and children."  Who better to understand African-American families than Ed Brooke who fought to save busing. What other remedy did blacks have to get a better chance at a decent education.