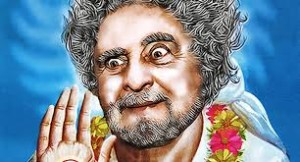 Trump will not win. There's a better chance for Rosie Ruiz to win the Boston Marathon than for the Trumpeteers to have their candidate elected president. In revulsion to him America will turn its sad eyes to a person the much lesser of two evils who not only should not be elected but once she is then she will bring about the Trumpeteers worst nightmare — an activist Supreme Court filled with Strangers who will decide the future direction of the country. She will so stack the Court with the left wing's version of beautiful people with hearts on their sleeves that for the next thirty years, if not forever, America will be under their control.
The great irony is that with so much at stake the Trumpeteers decided to back a person with no public experience based on the idea that he will surround himself with people who know what to do. No one would hire a sharpshooter who knew nothing about firing a gun because he would have good instructors standing next to him. The presidency is not where you start learning things. Trump knows nothing about governing nor about foreign policy so he has no internal basis upon which he can decide anything.
I keep going back to the telephone call between him and Bill Clinton before he announced his candidacy. What was it about. Had Bill, the master politician that he is, figured out Hillary would only have a chance if she had a person like Trump as an opponent? Did Bill encourage Trump to get into the race? Why would he have done this other than knowing the one person Hillary could soundly defeat would be someone as obtuse as Trump who thinks the American people like a bully.
It is amazing that the Trump got such a good turnout in the Republican primaries which were open; those where people could vote in either the Democrat or Republican primary. Did you ever think that many who voted for him did so knowing by giving him the nomination he guaranteed Hillary would win? Trump is right when he says the election is rigged. It was rigged when he was made the candidate of the Republicans since that was handing the presidency to Hillary on a golden platter. It was rigged when he decided to use his brand of dividing America against itself to get the nomination.
The Trumpeteers are unhappy with the direction of America. Wait until they see what happens because of their blindness in thinking that an ignoramus in public service and foreign affairs could change it. The White Supremacists, the rednecks, the hard core pro-life (although Trump is about as pro-life as Betty Friedan ), the Ayn Rand worshipers, and the disgruntled-in-general worrying about the free loaders in society give us a candidate who acts as if he is brain damaged. He can only lose.
The most simplistic American understands that losing a child in combat is a sacrifice. That working hard to get ahead is in no way comparable. Trump cannot see that. Trump thinks he sacrificed by working hard inheriting millions of dollars and putting them to work; the people who work hard are those working two and three jobs to get by, the mother and father in our new society who must work to survive and while doing that have to raise their family.
The Trumpeteers have forgotten all those who really work hard in their hatred of others. Not one in Trump's family has sacrificed anything for the nation yet he assails a man and woman who lost their son in combat. My mother was part of a Gold Star family – not a day went by when she did not think of her brother who died in a B – 17 in WWII. The American people know what sacrifice means.
What Trumpeteers in their blind hatred  mainly miss is that America will never elect a candidate who preaches hate of other Americans.  American history teaches that there is a great middle who elect the president. They will not vote for Trump. Trump will be slaughtered in most states.
The enormous tragedy in all this — a tragedy so extraordinary that it is enough to make me want to wail  — is that it will have been the Trumpeteers who put Hillary into the presidency. In a year when the presidency was theirs for the  asking they picked the one greatly flawed candidate to represent them. Deep down I cannot escape the feeling that this is Bill Clinton's masterpiece.