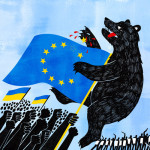 Watching CNN Piers Morgan the other day he wanted us all to know about how Bill Clinton felt about Putin. He told us back in September 24, 2013, he met with Clinton in New York. He wrote that he asked Clinton if he trusted Vladimir Putin.
He said Clinton replied: "Putin's a hard man. A very hard man. But he respects strength. We used to kick everyone out of the room, then go at it with each other. And I mean GO at it. It would get brutally blunt in there. But we'd get stuff done, and agree on things."
Morgan said he asked him if he kept his word once they agreed.
"Yes, he did. Every time. I always believed you should try and be very honest with people in private and if you want them to help you, try to avoid embarrassing them in public. "
The next day Morgan interviewed him on television. After Clinton said the Putin was "very smart" Morgan said "you know him better than anybody." Clinton agreed, "yeah, I do." Morgan asked him what was he like behind closed doors. "Smart and remarkably – we had a really good blunt relationship – brutally blunt." Clinton went on to say Putin never reneged on a personal agreement he made with him and kept his word in all of the deals he made.
Morgan has made much about Clinton's experience with Putin suggestion that Putin is trustworthy. My recollection was that the time when Clinton was in office had hardly overlapped Putin's time as president. Clinton's term as president expired on January 20, 2001; on December 31, 1999, Putin became acting president of Russia and was elected president on May 7, 2000.  In their official capacities they had very little chance to meet nor to size each other up with respect to national affairs.
One meeting we know about, the last one Clinton was to have with Putin in Russia, took place in early June 2000. The person writing about the report said: "Mr. Putin, as a political unknown whose disposition to the Western eye is somewhat dour, seems unlikely to achieve with Mr. Clinton the easy-going "Boris and Bill" chemistry that dominated during Mr. Yeltsin's two terms." The meeting with Putin which was their first face-to-face meeting were described as:  "businesslike," "congenial" and "easygoing."
I'm not sure Putin ever came to America to meet Clinton during his final days. But my guess is that he didn't and that there was only one meeting between Clinton and Putin on matters involving both countries. I've a sense that Clinton's exaggerating his bluntness during these meetings and is sending out a false message that Putin is trustworthy and a man of his word. I'd suggest that since President Obama has had three hour to 90 minute telephone conversations with him over the past week indicates that he's probably not that trustworthy. Didn't Putin invade the day after one conversation catching Obama by surprise?
Why is Clinton rewriting his history? Aside from his habit of making more about himself than is there, I only assume that since he left office he has met with Putin for his own private reasons. Aside from making himself look good, he's interested in maintaining his good relations with Putin for whatever business or other deals he is working on with Russia.  So if we look for an insight into Putin from Bill Clinton we probably won't learn too much that truthful because of Clinton's deals with him.
Fortunately there is another Clinton, Hillary. She has spent four years as Secretary of State so is quite aware of the man. She was going to reset the relationship with Russia but apparently learned nothing was going to change. Things were going to be done Putin's way no matter what we wanted.
On Tuesday of this week at a private fundraiser Hillary said about Putin and his acts against Ukraine: "Now if this sounds familiar, it's what Hitler did back in the '30s. The Germans by ancestry who were in places like Czechoslovakia and Romania and other places, Hitler kept saying, 'They're not being treated right. I must go and protect my people' — and that's what's gotten everybody so nervous." 
If I didn't know better I'd say Hillary had been reading my blog.
Hillary clarified her remarks after many objected to her comparing Putin with Hitler. Some people also complained to me about it when I did. She said that she wasn't saying Putin is the same as Hitler noting that the claims made by Putin to justify his invasion were "reminiscent of claims that were made back in the 1930s when Germany under the Nazis kept talking about how they had to protect German minorities. So I just want everybody to have a little bit more perspective. I'm not making a comparison certainly, but I am recommending that we can perhaps learn from this tactic that has been used before."
Between the two I have to go with Hillary. She didn't say Putin was another Hitler. All she pointed out was that Putin's tactics of invading another country based upon a false allegation that Russian citizens were at danger mirrored what Hitler had done. What Hillary wanted to suggest was that the failure of the nations to respond in the 1930s led to dire consequences.
Hillary was urging us to be alert to the consequences of inaction; Bill was more interested in advancing himself. I wrote the other day the Hillary has been silent since the invasion. She has now spoken out. It is good to see that she recognizes the dangers presented by Putin.