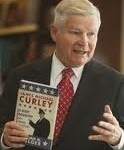 Last Wednesday down the Cape I spoke to a group at a library on the subject of Whitey Bulger. My talk lasted about 2 hours including the time for questioning. It went well, I was told. No one left before it ended and the questions were challenging and interesting. I used power point for the first time and that helped me to stay on topic and to maintain the interest of those who came out. I wished I had had it when I was teaching search and seizure to the cops.
I had hardly begun speaking when one of the person's raised his hand and asked what about his brother? I knew he wasn't asking about Jackie; but I was surprised the subject came up at all, nevermind being the first question asked. It showed how closely Whitey Billy is linked with Whitey in the minds of some. I suppose I should have expected this.
From what I read about the pitch made by Brian Kelly last Wednesday for what the prosecution believed the appropriate sentence for Whitey he was supposed to have suggested to Judge Denise Casper that Whitey was responsible for Billy losing his job. Now that's one for the ages. It wasn't Whitey, it was the people who kept insisting there was a connection between Whitey and Billy, and one of those people was the person addressing the court.
I wondered if Kelly forgot that he pulled out of his hat the totally irrelevant question he asked one witness inquiring whether or not Billy Bulger attended the retirement party of convicted FBI Agent John Connolly. Or did Kelly forget it was his co-counsel Fred Wyshak who commented when asked what made Connolly go wrong that: "he got too close to the Bulgers and South Boston." 
The Globe reporters, Howie Carr, Alan Dershowitz, the prosecutors, our Cowardly Congress, a guy planning ahead to run for president, cops including FBI agents who wrote books, and who knows who else have all connected Billy with Whitey suggesting there was some sinister connection. Of course no one did a better job than the FBI which some day I'll tell you about; it gave me one of my early sad insights into that Bureau.
All these have done a very good job of this as you can tell by my being asked right off the bat about Billy. Speaking of bats, I suppose the question could be a fast ball or a soft ball depending on one's knowledge. Fortunately, I had the experience that no one else has had when it comes to Billy so it was easy to answer.
All these people who manufactured scary scenarios of Billy in his powerful position as president of the state senate protecting Whitey which had an effect of causing state, city and local law enforcement agencies to back off in their investigations of Whitey knew nothing of what was being done. None of them worked in this area.
I did. From the late 1970s to the time Whitey fled, I was involved in investigating organized crime in the Boston area. I did more organized crime wiretaps than all the other prosecutors in the state combined. I worked with state cops, DEA agents, skilled city and local detectives. These wiretaps produced thousands upon thousands of intercepted conversations among people in Whitey's and other organizations.
I'm sure most if not all of these investigating officers knew that Whitey Bulger was a gangster. I certainly knew. Yet during all this time and all these investigations not once did anyone suggest that perhaps we lay off Whitey because Billy might be upset. Not once did the name of Billy Bulger come up in any way in connection with Whitey.
I was able to tell the questioner this. I was able to speak from my own experience. I was able to say that any connection between Billy and Whitey other than as brothers was a recent contrivance done by willful people for reasons of financial gain, revenge, or just out of pure ignorance.
I told the questioner of the statement made by the family of the young man who killed the TSA worker recently in Los Angeles. They said:
"Paul is our son and brother. We will continue to love him and care for him. We will support him through the difficult times ahead." 
I suggested Billy only did in connection with Whitey nothing more than any brother would do.
I didn't get into it since Billy was beyond the scope of my talk, but there was one agency that did connect Billy with Whitey. It was the FBI. It justified its use of Whitey as an informant because of Billy's position. It never suggested a wrongful connection between them it just used Billy to push back against those wanting it to sever the relationship with Whitey. Of course all of that was done in the usual FBI manner, behind Billy's back.
That's why this saga is not over as Carmen Ortiz suggested. There's a lot to be done to expose the wrongs done to other people. There's a lot to be done to hold accountable those who wrongfully took advantage of the existence of Whitey and the feigned connection to Billy to benefit themselves.