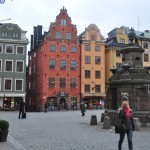 I'm trying to go back and reconstruct the 75 State Street story which some (many?) have used to suggest Billy Bulger is corrupt.  Billy served from 1960 to 1970 in the House of Representatives, from 1970 to 1996 in the Senate and of those years as the longest-serving president of the Senate from 1978 to 1996, and as president of the University of Massachusetts from 1996 until 2002. Most of those who suggest he did something corrupt while in public office for over 40 years point to the 75 State Street story.
I've already stated there was no extortion involved in his actions. Harold Brown could not be extorted. Two U.S. Attorneys and Attorney General Scott Harshbarger concluded no crimes were committed after their investigations.
Reviewing the event something really stood out for me. The Boston Globe went all out to hammer away at this story day after day pushing a one-sided story which demonized Billy at every opportunity taking the self-serving pleadings of Harold Brown as gospel, and the position of Billy as suspect.
In my research I came across an article by Gerard O'Neill one of the reporters who kept pressing the 75 State Street matter. This article was written on July 21,2003, almost 15 years after the story broke.
Here's a little history.
O'Neill was one of the reporters for the Globe Spotlight report in September 1988 that suggested that Whitey Bulger was an informant.  He got this information from FBI agent John "Leaky John" Morris. He confirmed it through former FBI agent Robert Fitzpatrick.
Leaky John fed O'Neill information from the secret files of the FBI from prior to the September 1988 Spotlight article up until he left Boston. He said when he testified at FBI agent John Connolly's trial in May, 2002 that he and O'Neill were friends. Leaky John was more than a friend. He was Boston's answer to Mark Felt of the FBI. Felt was the infamous "Deep Throat" who leaked FBI information to Woodward and Bernstein at the Washington Post; Morris was a "Leaky John" who passed secret information to O'Neill and Lehr at the Boston Globe. Both men violated the oath to their jobs for personal gratification. (Felt was angry at Nixon who appointed L. Patrick Gray as FBI director, the job he wanted. Morris, as we know, wanted Whitey killed.)
Leaky John was a spigot for the Globe (as was Fitzpatrick). He told it all he knew about Whitey, 75 State Street, Edward McCormack, and anything else. When his job confronted him about leaking matters, twice he lied under oath denying it. He was briefly put on probation, later transferred and then promoted. Leaky John, a  friendless man, thinking he had a friend in O'Neill after he began his liaison with the Globe could not do enough for him.
O'Neill writes in this July 21, 2003 article:  "The real issue with Bill Bulger is whether he was part of the core corruption of the FBI's Boston office as it covered Whitey Bulger's back in the Boston underworld in exchange for dubious intelligence. .  . The FBI protection of Bill Bulger is an overlooked part of the long-running controversy about Whitey's evil empire. And it started with his request that the Globe hold an exposé about his financial benefit from 75 State St."
Unlike what is inferred, the request was nothing out of the ordinary. The Globe was not requested to hold an exposé, as alleged. O'Neill and Lehr met with Bulger at his office on November 27, 1988. They asked Bulger specific questions about his financial transactions in 1985. He was unsure of the answers and said he would check his records before answering some of their  He was travelling to Europe with the Boston Symphony Orchestra the next night of November 28.  He said he'd have his aide, Paul Mahoney, assemble the records and he would meet with them when he came back in two weeks.
Bulger wrote O'Neill agreed to hold the story. O'Neill said he told Bulger he couldn't promise to do it. O'Neill released the blockbuster story on December 8, 1988, knowing Bulger was in Europe. In it he said Bulger's assistant hadn't responded to them in ten days. He left out anything relating to Bulger's legitimate request or his Europe trip. In his 2003 article he turns it into something sinister: calling it a "perplexing request for a delay."  It was nothing of the kind. It was the most normal thing  a person could have done to want to check his records.
It gets worse. O'Neill then suggests he checked his records in his attic and learned that on November 30, 1988 "The head of the FBI's public corruption unit, John Morris, privately closes the file on 75 State St. Years later, Morris admits taking cash bribes from Whitey Bulger, including $5,000 shortly after he opened the 75 State St. investigation in 1986."
We are left to infer that Leaky John Morris is corrupt and did Billy a favor. Nowhere do we learn Leaky John is O'Neill's friend. We're not told that Leaky John was no friend of the Bulgers. He is portrayed as just the opposite. We're not told Leaky John had been giving him whatever information he wanted from the FBI files as well as guidance and help for his article.
O'Neill knew there was nothing wrong in Leaky John Morris closing out the file on November 30. O'Neill would have asked him why he was doing it and must have been given a legitimate reason. Subsequent investigations by prosecutors showed that it to be the correct decision.
Back when Morris closed it out O'Neill had no problem. But in 2003 when we have forgotten about the O'Neill/Morris friendship, O'Neill pretends otherwise. He keeps hammering away with this half-baked story. O'Neill's strongly bias manner does not reflect well on him. Malcolm X was right on the mark when he said "the media's the most powerful entity on the earth. They have the power to make the innocent guilty . . . ."  It's easy to see how it's done seeing how these facts were contorted.