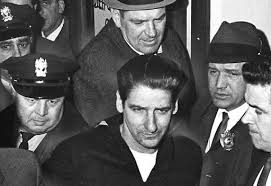 I'll get to the Boston Strangler in a minute but I want you to pause and think of what would have happened had black lives mattered back in 1968 when Dixon, Barrett and Smith were murdered. A half decent investigation very well could have solved those murders. There were clues everywhere. The FBI very likely knew the whole story.
Flemmi would have caved under a little pressure from the police. He would have put Martorano in the jackpot and into the can for life. Without Martorano on the street at least a dozen lives would have been spared. He was the guy putting the gun up against everyone's head and pulling the trigger. Even barbaric Flemmi might have gone away for a bit as an accessory. Think of how many other lives that would have saved.
But again maybe that never would have happened. After Steve Flemmi was an FBI top-level informant. He would have received the FBI's protection. The FBI had no problems with weighing the value of three black lives against keeping its informant on the street. Over and over it has done that when it came to protecting its top-level informants. Think of how many lives have been lost because of that!
To see if black lives mattered I examined the response and reaction to the Boston Strangler case which I am sure most of you remember or have heard about and compared it to what happened in the case of the 11 black women which I feel certain few remember.
Many believe the Boston Strangler was Albert DeSalvo. Other than his confession little evidence was found to implicate him. It is unclear how many murders the Strangler committed. Some say 13,  others much less. The truth will never be known. I suggest the Strangler murdered at least five because the M.O. in those cases were similar. Middle aged to elderly white women in Boston strangled with a nylon stocking and sexually assaulted in their own apartments. Others were more or less similar. The last victim, 19 year-old Mary Sullivan  lived in the area the Strangler operated in. She was unlike the others who were middle-aged or over. DNA found on her allegedly matched DiSalvo.
A black woman Modiste Freeman was thought to be the sixth victim. She was eliminated in part because the other five victims: "were white" . . . "were killed in their apartments" while Ms Freeman was attacked on the street  . . . were "much older" . . .and unlike Ms Freeman not mutilated.
Whether he murdered six, or eight, or even thirteen is not the point. It was the headlines and response to these deaths that is significant. The first four murders were in June, 1962, then two in August, and two in December. The latter five in March, May, September of 1963 and January 1964.
Headlines were: August 1962: "Phantom Strangler Kills Sixth Woman;" October 1962: New Strangling Victim Found in South End Alley;  December 1962: "1st and 7th Strangling Only Few Blocks Apart.; November, 1963: "Lawrence Woman, 23, Is 11th Strangle Victim; 
On September 3, 1962, the Boston police announced that they had 55 investigators working around the clock to solve the case "before the crazed strangler strikes again." Now they were going to nearly triple the number to 150 detectives working in three shifts. At that time there were five known strangulations attributed to the strangler A year later on September 15, 1960, the headlines read: 9 Stranglings Still Unsolved – – And Circle of Fear Widens." That story told about Evelyn Corbin, 50, killed in her Salem apartment with two nylon stockings. The article noted "Locksmiths have reported booming business lately."  The Boston police still had 25 detectives working the case every day.  
One detective interviewed on the radio suggested that women on returning home to their apartments leave the door open when they first enter to ensure the Strangler was not hiding there so if he was they could quickly flee. He was asked if that was a good idea if the Strangler was hiding on the outside or followed her home.
Chief of homicide John J. Donovan said: :It will take time, lots of hard work — and maybe a lucky break or two, but I feel sure that we will solve these murders." Despite the work they were coming up empty-handed. It was DeSalvo's confession to a fellow inmate that led to the case solved.
How then did the Boston police handle the 11 murders of black women? (continued in part 7)