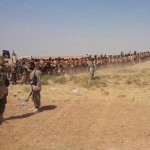 Back in January 1998 a group of people sent a letter to President Clinton urging him to remove Saddam Hussein from power. They waved the specter of him having "weapons of mass destruction" in his possession. They went on to say if he acquired the capability to deliver them "the safety of American troops in the region, of our friends and allies like Israel and moderate Arab states  . . . will be put at hazard." It called upon President Clinton to have "a willingness to undertake military action" aimed at removing Saddam.
Clinton wisely resisted the pressure. Of the eighteen who signed the letter, eleven would have great and direct influence George Bush's foreign policy especially over military matters such as Richard Perle, Donald Rumsfeld and Paul Wolfowitz. Bush welcomed these individuals who publicly urged war on Iraq into decision-making positions. They produced the war they wanted.
One of the signers, Francis Fukuyama, eventually developed a great distaste for the others. He attended an annual dinner of the American Enterprise Institute in February 2004 less than a year after the war began. He said Dick Cheney and Charles Krauthammer "declared the beginning of a unipolar era under American hegemony." He went on to say, "All of these people around me were cheering wildly."  He felt that "all of my friends had taken leave of reality."
That war started in 2003 is still ongoing after 11 years. We defeated Germany, Italy and Japan in WWII shattering those countries and within that period of time they had turned themselves into thriving democracies. We spent a decade "freeing" Iraq and standing up its army only to see it collapsed when opposed by a radical force from the Islamic State (ISIS) losing up to one-third of the country. Is it our job after losing more than 4,000 American lives and countless billions of dollars to do for Iraq what it is unwilling to do for itself? .
An article in today's Wall Street Journal by John Boehner and Mitch McConnell suggest they think it is. They say one of the most pressing challenges facing the U.S. today is: "a savage global terrorist threat that seeks to wage war on every American." That is the same type of radical language used in 2003 by those mentioned above who started this debacle in the first place.
The Republicans want us to lose more American lives in this fool's errand. Even now we are trying to rebuild the Iraqi army but don't expect it will be ready until next spring or summer. The Republican just told the Iraqis they can expect us to come in and fix their problems. They'll be happy to let us do it. Are we forever obligated to lose American lives saving Iraqis who won't save themselves? The Republicans say yes. They got us in there in the first place, and are intent on bringing us back to this hell-hole.
Saddam ruled Iraq with an iron fist. He was our ally in the Iraq-Iran war. He became our enemy when he began to threaten other of his neighbors: he invaded Kuwait from which he was quickly ejected by American forces. Wisely, the first president George Bush let him remain in power. Saddam gave stipends of money to the family of suicide bombers among the Palestinians incurring the wrath of Israel. Saddam was not a nice guy but he was no threat to us as we learned to our dismay.
Saddam was also a Sunni Muslim. The Shiite Muslims made up the majority of his country. When we went invaded we put the Shiites in power. Since that time they have done their best to suppress the Sunnis who having lost the ascendency are bitter; some have now gone over to ISIS.
What is happening in the Middle East is a religious war among Muslims. Sunni nations (Saudi Arabia, Turkey, the Persian Gulf sheikhdoms,) are at war with the Shiite nations (Iran, Syria, Iraq). Although our traditional allies are Sunnis we have allied ourselves with the Shiites. Our present plan to defeat ISIS helps both Syria and Iraq with an assist from Iran.
The Middle East is truly a mess. We've turned a relatively stable area that never threatened us into a warehouse full of troubles. (Iraq had nothing to do with 9/11 or al Qaeda) Our actions have directly led to the rise of ISIS which may be the most evil group that ever existed since humans came out of the caves. The brutality and barbarity of its actions have rightly stunned us.
But, they don't threaten us. They threaten their fellow Muslims. We cannot solve the Sunni/Shiite hatreds that have existed for over a thousand years. Did anyone ever think when we went into Iraq expecting a warm welcome we'd still be there at this late date?
It's time to reverse course. We must get out of the Middle East from which no threat has ever come to our existence and never will. Russia is an enemy that is getting restless; China also is getting itchy. They've been kept in check by our willingness to be strong and confront them. Under Obama they sense weakness, lack of resolve and inattention to their aggressiveness. Boehner and McConnell ignored these countries when setting out our more pressing challenges.
Their omission will embolden these real enemies. They will sense they are off our radar. We are acting in a manner that we imperil our long time safetly. We do so at our dire peril.