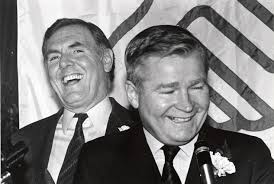 Former Mayor Ray Flynn is to be honored. He deserves it. In the matter of full disclosure I am not a totally disinterested person when it comes to giving him his due. I've always liked him. It was not just because he was from South Boston but more importantly on the couple of occasions that I met him he mentioned his fondness for my mother and aunts, especially Honey. He called them the Rogers girls. They were good friends with his parents. He was a natural politician because he had the ability to remember things like that and he was a man who did well in life rising to the position as an ambassador of this country to the Vatican.
Last week I read the following: "Mayor Martin J. Walsh is asking the Boston Redevelopment Authority to rename the Marine Industrial Park after one of his predecessors, Raymond L. Flynn, who worked as a union dock worker at the South Boston port before launching his legendary political career"  He went on: "We can think of no better way to celebrate Mayor Flynn's legacy of social and economic justice than to name the area where his father, his brother, and, indeed, Mayor Flynn himself worked as members of the International Longshoreman's Association,"
As I said it is a nice honor for Ray Flynn and I am happy for him. It is not about him I am writing because I am sure from the little I know of him he would not have done what our present mayor has done.
Mayor Walsh had a chance to weigh in on naming another piece of real estate for a person from South Boston. This time it was naming a library after Bill Bulger who was a trustee of the Boston Public Library and did much to funnel money into it to keep it running properly.  A group got together and sought to have the local South Boston library named after him. It was a small gesture for a man who had done so many good things.
Walsh was asked by a Herald reporter on August 15, 2014, whether he supported naming it after him. He replied: "We're looking at it. The way the library is told to me you don't name a library unless someone's deceased. Ah, I'm not big into naming everything. . . .  I know we named the Bruce Bolling building . . . so we'll look at it and see what happens. . . . I'm not opposed to it. I'm not in favor of it. I'm just neutral."
Naming the Bruce Bolling building sort of gave lie to his statement he's not big into doing it. That building that will have as its occupants up to five hundred members of the Boston Public School's administration is a six floor building. Renaming the massive Marine Park adds to it.  So why can't the major take a stand on such a small stand as to name a library after Billy Bulger.
I don't suppose the mayor's weak-kneed answer would have anything to  do with the Boston Globe editorial opposing it. When was the last time you read an editorial in opposition to the naming of a library?  Or did he quake reading the article by Jeff Jacoby, the same Globe reporter who asked people to shun Billy and called him "the vindictive pol" and suggested if the people wanted to name something after Billy they should have to pay for it.
Mayor Walsh should be more of a stand up guy. There is no doubt Billy Bulger deserves some recognition for his contributions to Boston and the state of Massachusetts. He was the longest serving president of the State Senate and did much good. The sordid rumors associating him with his brother were used for political get back and were empty of facts.
I would like to suggest that rather than naming a library after him the new proposed walkway that is being built to accommodate GE which will replace the Old Northern Avenue Bridge be named after him.  If the bridge next to it can be named after a politician's wife who did nothing of note, surely Billy can be honored in a similar way to make up for all the abuse he has suffered and to honor a man who did great things for the city and the state.