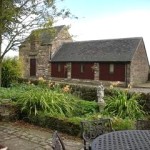 "And it's Brennan on the moor, Brennan on the moor, Bold, brave and undaunted was young Brennan on the moor."
If Whitey isn't humming that tune to himself by this time there's not a drop of Irish blood in him. If that were ever shown, then his whole defense that proud Irishmen do not inform therefore he couldn't be an informant would go down the drain.  Maybe Wyshak should bring in a genealogist to trace his background — I've read somewhere that he had British blood in him.
I checked to see if the name Bulger was Irish.  I found this. "The name Bulger originally appeared in Gaelic as O Boguidir, which according to this site, meant yellow belly (from bolg dohar)."  I hope Wyshak doesn't know that because it would fit into his theory Whitey was a rat if we consider the modern-day understanding of the term as a person being a coward.
However, it has a very interesting historical meaning.  So it's not clear cut. It is an Irish word and being called a "yellow belly" at one time in Ireland was a something to be proud of. Here is one example: "A Wexford Man. called because of there jerseys. A real man, who saved the Irish in the Civil War, the 1798 rising. Also called yella belly." It's best not to mix cultures.
But back to Hank Brennan.
I think Margaret McLean a BC Law professor, who has written two books and is seen on TV each morning on NECN and other places, who is attending the trial and is a delightful intelligent woman summed it up perfectly in her tweet which went to the effect that during Hank Brennan's cross-examination of Morris she didn't have a chance to tweet because she couldn't take her eyes off Brennan making Morris look like a liar.
Brennan tore into him on his past of lies. Morris would try to squirm out of some of the accusation but Brennan always managed to bring him back like a cat letting a mouse run a bit before nabbing him again. Morris would ramble a while and Brennan would let him and then ask the question he asked in the beginning. "So you lied about that also." And Morris, seeing no one was buying into his excursions into nonsense would finally admit that was true that he lied.
He lied to his wife, to his girlfriend, to other agents, under oath, and on and on. He lied to benefit himself. Over and over again we had examples of him lying about big things, not so big things, and little things. If there is one thing the jurors went home with last night is that the guy on the stand who told them except for being caught lying to his fellow agents, his record in the FBI is clean, even though he admits he took lots of bribes from the gangsters, is a liar. They've already concluded he's lying to them. Brennan has effectively, and he's only begun, made Morris look very evil. If this type of man thinks he has a clean FBI record, what does that tell us about the mindset of some of these agents.
I was particularly interested in one part of Morris's testimony on direct examination. He told how for months Gerry O'Neill of the Boston Globe was pestering him to give him information about Whitey Bulger and his relation to the FBI. This was back in 1988. Morris told how he succumbed and finally broke his oath and violated one of the most basic FBI commandments not to out an informant. Coincidentally, he did it after he had taken $5,000 from Whitey and thought Whitey had tape recorded the money pass.
He told how O'Neill was feeding the FBI information for them to investigate Billy Bulger. We've often speculated about the close relationship between the Boston Globe and the Department of Justice (DOJ) but here we hear it straight out. And this from Morris, who considers himself a friend of O'Neil's.
What we get is a reporter feeding information to an FBI agent so that the FBI agent will go after a person so that the reporter can write a story about the FBI going after that person without disclosing he was the one who initiated the story. That seems sort of a strange way to go about reporting on things, at least to me.
Morris complies with O'Neill's request. He opens an investigation on Billy Bulger. He does the investigation and come up with nothing and so after a while he closes it out. Morris testified O'Neill then turned on him and said he closed it out as a favor for Billy Bulger. Morris denied to O'Neill that was the case. He closed it out because there was nothing there. He closed it out on the merits.
This is the 75 State Street case. After Morris closed it the Globe forced the DOJ to reopen it and also pressured the Massachusetts attorney general to open an investigation. The Globe was hell-bent on getting Billy Bulger into difficulty with authorities even though there was no merit to the charges. How many in the public knew this?  These subsequent investigations also came up empty.
What was it that was motivating the Globe to begin an investigation and then when it doesn't get what it wants to continue to defame a person?  Just the other day it was calling for people to shun Billy Bulger. Twenty five years chasing after him. What is behind this? Don't you find it sort of odd? I do.