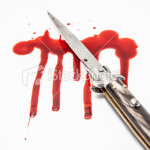 Brennan has done a good job to this point in cross-examining Steven Flemmi (Benji Ditchman) beginning with and staying with his involvement with his  step-daughter Deborah Hussey who he admits sexually molesting, twice but not intercourse, and whose murder he was involved in. Flemmi finds it difficult to say she's his daughter – in his mind it is easier to accept what he did to her if he can push her as far away from him as possible. Brennan did an excellent job wrapping the relationship around his neck.
"She called you daddy, didn't she?"
"Yes."
"Did you ever tell her not to call you daddy?"
"No."
Brennan asked one question that included the idea that he strangled her. Flemmi quickly said I didn't strangle her, Whitey did.
Brennan now is in the position to drive home to the jury what this man is all about. He's cornered him right off the start and he can't let the rat out. His first job has to be to pin the murder squarely on the shoulders of who is responsible for it. I'd do that now and then go back to the reason. Brennan might see it otherwise but let me tell you what I'd do.
I'd next ask him. "Mr. Flemmi who murdered the girl who called you daddy (or your daughter either driving home the point)?  He'll  say Whitey. You have to then ask, "Who led the girl who called you daddy to her death?" He'll have to admit he did. Then say "if you took the girl who called you daddy out in a canoe knowing she couldn't swim and tipped it over, who would you say killed her, the water? Fire the next one, "if you walked her into field of quick sand where she sunk in and died, would you say the quicksand killed her? "Isn't it true when you lead a person to a place where they will be killed you are the one responsible for the murder?" "If you didn't bring her there she would not have been killed, would she?"
The answers aren't important,the questions are. You want the jury to hate the man because you are just starting your cross-examination and you want him totally exposed, as if standing nude, in front of the jury.
You then go on with the murder after reinforcing he stood by and did nothing while Deborah was murdered. Brennan asks:"How did you take the girl who called you daddy to the basement."  "When you got there, you took off her clothes, I believe you testified." "Did you do that before or after you started extracting the teeth from the mouth of the girl who called you daddy." "Now I checked my note, I don't see that you told us how many teeth you took out of her mouth, can you tell us."  He won't be able to and will try to avoid the question. He'll say he can't remember.
Brennan now has the chance for the coup de grâce. "You buried her body in the cellar of the murder house at 799 East Broadway, isn't that so?" "You then moved her to Dorchester across from Florian Hall, didn't you?" "You buried your daughter a second time in an unmarked grave throwing her body next to the bodies of two men she never knew." "You know her body was eventually retrieved from the grave you threw her into, don't you." "The girl who called you daddy was identified through a forensic examination by a forensic anthropologist which I assume you know."
"Now I want to show you exhibit (the number) that shows the skull of your daughter and the teeth that have been extracted and ask you if that refreshes you memory as to how many teeth you tore out of her mouth when she was in the basement."  It's the point you want to reach to have the jurors see this man facing the remains of a young women he murdered. There is no way he can do it in any civilized manner. But whatever he does he'll show his vileness. If he refuses to look Brennan suggests, "you had no trouble murdering her but you now have trouble seeing the results of you handiwork." If he looks at it without batting an eye, the jurors will see the closest thing they have ever seen to pure evil.
Depending on how this plays out, Brennan has to get into the trite reasons for Deborah's murder. Right now she's causing some  trouble in Triple O's, Brennan has to delve into the specifics of what she had done. He told about a bookie complaining Deborah stole eight hundred dollars from him. Try to have him use that as a main reason for killing her, because she was costing him money.
Wyshak will try to preempt most of this with his absurd objection "asked and answered." The judge will tell Brennan to rephrase the question. He'll ask just about the same question again.
Brennan should have the right to continue beating up Flemmi over Deborah's murder. Let's hope the judge does not cut him short. Then he can continue the rest of his cross-examination.