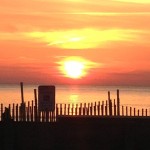 I told you how Frank Capizzi a few questions into his cross-examination turned to the judge in response to a Carney question asking him if he was involved in any illegal activities back in the '70s and said he wanted to claim his rights. This resulted in a side bar (bench conference) among the judge and all the lawyers and then a recess.
I anxiously awaited to hear his testify after the morning recess even though it seemed to me Carney was shooting himself in the foot with his cross. But it was not to be right away. The judge announced to the jury that Capizzi would come back to testify later. The next witness who went on the stand was Joseph Costa a retired MDC motor cycle cop who identified pictures at the scene of the William O'Brien murder on Morrissey Boulevard in Dorchester showing the car with all the bullets in it and blood on the carpets. That was the car that Ralph DiMasi was riding in when he decided to go after the gunmen with his stiletto.
After him came Joseph Angeli who identified a picture of his father, Joseph Notorangeli. The next witness called was Billy McDermott. I worked on several cases with Billy when he was a Brookline detective. He was a hard worker. He was always reliable and trustworthy. It was good to know he was still around and looking good.
Now up to the time Billy McDermott, who retired from the Brookline Police as a detective lieutenant, got on the stand the prosecution had presented a picture of two guys who were inseparable: Whitey and Stevie. All the witnesses who had relations with them who testified would talk about Whitey and Stevie; they left rent payment with Whitey and Stevie; Martorano said Whitey told him anything he told Stevie was like talking to him. The pictures of the Lancaster Street garage showed them together; the guns taken from the screened house behind Stevie's Flemmi's house you have to connect to Whitey because he and Stevie were inseparable.
The last thing the prosecution should have wanted, at least in my humble opinion, was to have the defense put a wedge between them.
Now I've told how Wyshak walked into two left hooks in doing his redirect examination: the first when he tried to fool the jury and the other time when Raph DiBona exclaimed about the way the system works. That's understandable since you do make mistakes trying a case. Walking into a left hook is one thing; but walking into the corner post is another.
I've sensed Wyshak doesn't have a "big picture" view of the case or any strategy. At times it seems he's come up with a lot of witnesses and just puts them on the stand hoping he will get something out of them. It's like throwing mud at a wall and hoping some sticks.
This isn't the type of case even he can lose. He has two of the worst criminals who ever walked the streets of America, John Martorano and Steve Flemmi, who will testify for him and say Whitey was their partner. All he has to say is what type of man would be partners with these type of guys. In fact that's one of Carney and Brennan's problems, the worse they make Martorano and Flemmi look the worse they make their client look.
Aside from the "birds of a feather" argument, he has the bodies of six victims who were buried by his side-thug Kevin Weeks. He has Whitey's lawyers conceding that Whitey was a big bookie and big drug dealer.
So what does he get out of Billy McDermott? Well, Billy testified that in the mid-Eighties he began to notice some of the wise guys beginning to hand around in Brookline with George Kaufman who he knew was a connected guy. For the next eight or ten years he did periodic surveillance of these guys taking photographs when he could. He produced some photographs that were introduced into evidence – they showed Stevie Flemmi meeting with George Kaufman; they also showed him meeting with Frankie Salemme; they showed where they met.
We had already seen photographs of Stevie and George Kaufman meeting at the Lancaster Street garage. None of Billy's photographs added anything to the evidence already in except they showed Frankie Salemme a Mafia guy who has little to do with Whitey. Eight to ten years of surveilling the wise guys in Brookline and who didn't he see; you guessed it, he never saw Whitey meeting with them.
Why after spending two weeks linking Whitey with Stevie does he put on a witness that separates them?  I don't understand it. I wonder how he thinks McDermott fit into the case, he certainly didn't help him.
After McDermott Barbara Sousa testified about how her husband James disappeared after he went to meet Bill Barnowski.  Finally they called Frank Capizzi back to the stands and I rubbed my hands together in anticipation. Carney stood up to continue his cross-examination. He announced no further questions. The judge told him he was excused.
Capizzi said in a loud voice, "thank you judge, thank you everybody, it's been an experience" and he walked out of the courtroom. It was a let down for me. The wise guys bring a lot of color.
The rest of the morning some guy from the inspector generals office of the Department of Justice started putting in records of the FBI. I noticed some of the media covering the case dozing off. The jury was sent home. The lawyers argued some legal points. And I had time to try to wonder about this whole case.