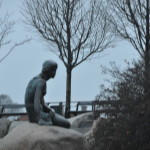 What do we make of J.W. Carney seeming to be trapped in the middle of a crumbling defense with the walls tumbling down all about him and not getting up from the ground and plunging himself headlong through the one opening that may lead the way beyond the marauding band of federal agents?
As the lead in the Whitey defense team of J.W. Carney and Hank Brennan (C&B) I expected that he'd have seized the opportunity that Judge Casper gave him. He let it slip by, Surely now, there is little hope left and we'll be left to wonder why at this most critical moment he was silent.
I'm troubled by this. Perhaps not so much troubled as disappointed. I'm starting to get the feeling that there was no there, there. You know what I mean – there was never any intention to have Whitey testify about an agreement with Jeremiah O'Sullivan because there never was an agreement in the first place. It was all, I hate to be crude about it, a big joke. Perhaps not done with a malicious intent but rather as the one idea that would spark up the embers of a smoldering case that had come down to whether enough discovery was enough.
It did work to a certain extent if it were all in fun. It delayed the trial. It got the case kicked upstairs to the Court of Appeals which returned it to the trial level by booting Judge Stearns off it. But for all C&B's loud noises their victories were ephemeral for the foes quickly recovered and now stand in a stronger position than ever. For in achieving their Pyrrhic victories they gave up solid positions in other areas abjuring the right to contest other issues by filing substantive motions and asserting that any other judge would be fine except for Judge Stearns.
As far as I can see just the illness card remains. Were the two or three trips to the hospital in the dead of the night hints of what's to come? Ilario Maria Antonio Zannino alleged back in 1977 that he was deathly ill. Three doctors testified that the stress of a trial would bring about his immediate demise. (Apparently his continuing criminal activities weren't stressful.) His trial was delayed from year to year. He died in prison at age 75 in 1996, 19 years later. His trial on the 1977 charges took place in 1987. Then we have the example of Vincent, Salvatore Esposito Vulgo Gigante's son, who walked the streets of Greenwich Village in his pajamas. He too was too ill to go to trial for many years as he ran his Mafia family.
Since it's not considered appropriate to put a man seriously ill on trial, Whitey knowing he will never be a free man and seeking to stay in his less than comfortable cell in Plymouth has no choice it would seem than to now rely on the one remaining card. It will be interesting to see how it is played.
Looking back, it should have been obvious there was no deal between AUSA Jeremiah O'Sullivan and James "Whitey" Bulger. We all got caught up in the showmanship of C&B and fell for the ruse as we are tricked by a skillful prestidigitator. Shamefully, so did the court. In retrospect we must ask what happened that everything spun so wildly out of control.
Why has which should be a normal criminal trial been turned into something like a circus? That's not an apt description since there can be some dignity to a circus, it has gone beyond that into a travelling carnival. I suppose it's fitting because we were told that Whitey ran off to join such a group in his youth. Well from today's perspective his brief internship with it must make him keenly aware that he's now part and parcel of the attraction. Imagine the money that could be made by any carnival barker that had Whitey in a cage as a side-show and people would have to come in and pay to take a look at him, like the man with  two faces.
Shouldn't way back, many months ago, the judge have demanded to know what were the terms of the agreement between Whitey and O'Sullivan and when did it take place. Many suggest a defendant can't be forced to disclose his defense; but that is not the case here. The defendant was saying he couldn't be prosecuted because he had this agreement with the U.S. attorney's office. Yet when asked what the agreement was about, C&B would simply say we can't tell you. We can only tell a jury. And all would bow their heads knowingly.
We knew, if we were paying attention, that the terms evolved over time. It went from immunity which Judge Stearns shot out of the water into an agreement not to prosecute, the latter being something according to C&B the judges had no business inquiring into. Everyone took it seriously. Why? Because of the side-show aspect of this matter?
Had we all not been caught up in the hype and looked at this with a critical eye, as one does not do when drawn to the lights and glitz and commotion and barking of a carnival, we should have quickly discerned we werecaught up in a great folly. Looking back it seemed that Judge Stearns was the one who kept his head when everyone about him was running around in imitation of Anne  Boleyn after she met the headsman.
I'll discuss it more tomorrow.