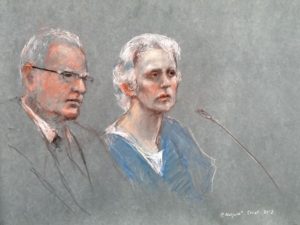 Paul Manafort. Lied to the federal prosecutors; lied to the federal grand jury about everything under the sun.
Judge Jackson said of Paul Manafort that he had used his many talents as a strategist to evade taxes, deceive banks, subvert lobbying laws and obstruct justice — all so he could sustain an "ostentatiously opulent" lifestyle with "more houses than a family can enjoy, more suits than one man can wear." That's even aside from the millions of dollars he was paid by Viktor Yanukovych the former president of Ukraine under the table to keep that Russian Stooge in office.
Judge Jackson said  "It is hard to overstate the number of lies and the amount of fraud and the amount of money involved. There is no question that this defendant knew better and he knew what he was doing."
Judge Ellis also sentenced Manafort in another court for bank fraud, stashing money in overseas banks and defrauding the IRS by making false claims on his tax statements every year from 2010 to 2014.