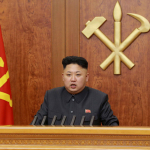 Don't ever get on the bad side of a certain type federal prosecutor. If you do and the prosecutor has unlimited powers like Kim Jong-un you will spend the rest of your life in prison. Even your family may be dragged in after you, or, if not imprisoned, impoverished.
Fortunately most federal prosecutors don't have the power to pursue people endlessly to satisfy what borders on an irrational compulsion to destroy. Usually there are restraints upon them. Sometimes it is the media that will point out how it was never intended that for crimes not punishable by death that people do life in prison on the installment plan. Other times with the change-over in local U.S. Attorneys the newly installed leader will calm the waters and turn the prosecutor's attention to other subjects.
As unusual as it seems, there may be an occasion like we see now where a prosecutor is in his sixties, he has done nothing but prosecute all his life and knows no other pursuit, has friends in the Department of Justice some who have been there almost 50 years who support him, who has been a source and friendly with the local media keeping them on his side providing them with inside information, his media friends end up with secret grand jury minutes, and his boss seems to either lack control or be oblivious to his crusade.