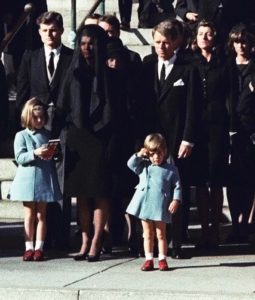 Sometimes I watch these national ceremonies and sometimes I don't. I didn't watch the McCain funeral or the events surrounding it. I watched the Reagan funeral and was quite impressed with the manner in which it was handled and the precise choreography of each military action.
I decided to watch the George H. W. Bush funeral. It was after all a national day of mourning and the ceremonies surrounding it I felt would be similar to those of Reagan. Of course the most significant of all these presidential funerals for those old enough to remember is that of John F. Kennedy. Who could ever forget the riderless horse or France's DeGaulle leading the foreign delegation or the eternal flame or the photo of John Jr. saluting his father?
I didn't expect Bush's funeral to come close to that – the JFK funeral was after an assassination that shocked the nation – even though both men fought well in WWII. Today is the 77th anniversary of the attack on Pearl Harbor that required the presence of both men in the Pacific theater of war. Bush was lucky to live to see his grandchildren and great-grandchildren.  His funeral was not tragic or very sad but it did remind us of the decent man which he was to his family,  friends, and country.