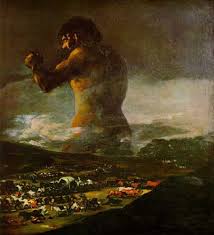 Hugh Hewitt is a very big Trump supporter. He finds gold in Trump's leadership where others would see pyrite. He writes for the Washington Post and on June 11, 2020 he wrote about Trump and why we would want to choose him come November as our leader providing that  Trump doesn't have to walk down anymore ramps.
Here are some of the things he  tells us about Trump.
"Trump is chaos theory contained in a man,  an explosive combination of complete candor as to what he thinks and feels, a willingness to brawl, an almost animal energy for the fray."
Is this what you want in a president who has to deal with many different problems: "a willingness to brawl." Or is it something you'd expect to see in a barroom drunk who after tossing down a few has the "in vino veritas" moment where he tells someone his less than deep thoughts, usually far from being complimentary, and then wants to fight the other person which begins with an  animalistic assault on the other. I've seen enough angry and mean drunks to know I'd like the leader of our country to be devoid of these characteristics that Hewitt seems so proud Trump possesses.