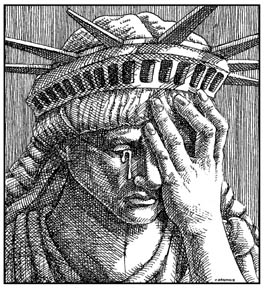 Today we get a look at our Kafkaesque federal justice system if things go as reported. Catherine Greig is scheduled to plead guilty to contempt of court. She refuses to testify before a federal grand jury about her relationship with Whitey. A note to all gangsters and their molls. if you are in love and going to live together and not otherwise married then do get married. You can save yourself a lot of trouble if you do. Catherine would never have gone to prison at all had she done that in the first place.
You know Catherine has been through this before. She has never committed a crime other than going off with Whitey and living with him and doing things a woman would do to help a guy who was a fugitive from justice. No doubt she knew he was on the lam. But the twisted minds in the federal court decided that somehow she knew she was harboring a murderer when there was no evidence, none, that when she left with him she knew he was accused of any murders because at that time no one ever said Whitey murdered anyone; nor is there any evidence that if she at some subsequent time learned he was charged with one, or some, she believed that he had murdered anyone.
She did what thousands of other women who have fallen in love with thugs and have lived with guys on the run from the law. She went off and lived with him. Unlike those others, because she came afoul of the Boston feds it was decided she should be punished uniquely harsh. She received for her non violent activity the greatest sentence of any non violent criminal with no prior record in the history of America who was not involved in a money crime. Now they want to double up on that and add more time.
After she was captured she was charged. She did not contest the charges but entered a plea of guilty. That was a huge mistake. The recommended sentence for her by the federal probation department was a little over two years — that is what would normally be given a person in her position. But revenge was on the minds of the vindictive federal prosecutors under the control of Fred Wyshak. They recommended she do ten years. The compliant federal judge Douglas Woodlock a former federal prosecutor gave her eight years.
But he went the extra mile to sate the blood lust of the prosecutors. He decided to open his courtroom to what became a little circus.  He let the families of the victims of Whitey come into court, take the witness stand, and excoriate and otherwise yell at this woman as if she was involved in Whitey's criminal acts. The truth was that for the 16 years she lived with him, twice the time of the marriages that end in divorce, Whitey committed no violent crimes. She actually performed a service for society if Whitey was this out of control monster he is supposed to have been.
That was the beginning of her ordeal. She is now going through the same routine again. It will be a time for her to be punished again by a federal judge. This is a routine practice of the Boston U.S. attorneys office under Fred Wyshak. Once a person is convicted to add additional punishment by impressing the person into service of one of his grand juries. He brings such people as John O'Brien and Sal DiMasi back before it again and again hoping he can then indict them for some type of perjury; or if not that, hoping to humiliate them by his questions or charge them with contempt if they balk at answering.
He has an extraordinary power that is abetted by the judges. He seeks not justice but a sordid type of extrajudicial punishment —  something that usually is only done by the sadistic guards working for the Bureau of Prisons who get their hands on some unlucky soul.  The idea of being punished once and doing your time for crime does not exist in Boston's federal court. Here like the Eveready bunny the punishment never ceases.
Catherine has already been punished four times what a normal person in her situation has suffered. She has had been treated cruelly by the judges and prosecutors. Pay attention to her case today to see how our justice system really works and how our Bill of Rights designed to prevent double punishment can be easily circumvented.