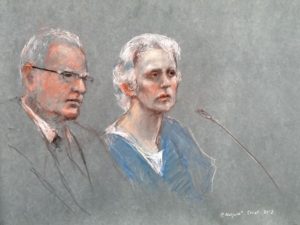 Catherine Greig was James J. "Whitey" Bulger's partner, girlfriend, common-law-wife, or however else you wish to describe her for most of his 16 years on the run. Prior to that time for many years she and Theresa Stanley were his girls at one time or another, even perhaps on the same day. There seemed little doubt that she was in love with Whitey. Like any woman who lived with a guy she helped him out in his daily needs running to the store for him etc.
Catherine Greig is unusual in this whole Whitey Bulger saga. She is the only one who kept her mouth shut throughout it. She is the only one who paid a price for keeping her mouth shut. The latter came about when she was dragged back in front of a grand jury after having received the highest sentence in American history for a person with no prior record who committed a non violent and non drug related crime. Already doing a totally inappropriate sentence from a judge who threw judicial ethics out the window and allowed people to come in and castigate her for something she had no connection with, she was brought before a second judge who told her that her continuing refusal to give testimony to the grand jury might well cause him to sentence her to life in prison.
That's pressure my friend. When the supposed  "tough guys" Kevin Weeks, Stephen Flemmi, John Martorano, or Frank Salemme were faced with time, much less than life, they folded. All the rest of the Southie guys who were part of the underworld also folded. There were so many rats running to the prosecutor's office in the federal building on the waterfront to get a deal that traffic was tied up on the Summer Street bridge for days on end.
That's not to say there aren't other stand-up lads and lassies in Southie. There are many. They are tough people but like my late lamented cousin Roger stayed on the right side of the law. Barely.
I can't think of one other person who got jammed up who didn't look for a deal by squealing on his buddies. Even Whitey, he tried to get himself out of his pickle by turning on John Connolly his FBI handler. He had his lawyer telling the world that he was paying Connolly tons of money (hundreds of thousands) for information. I never believed it. Having chased after these guys for much of my career I knew how cheap they were. Whitey didn't see the contradiction in his positions: Connolly wanted to help him out because, (a) they were from Old Harbor Village in Southie; (b) because he looked up to him; (c) because it looked good to have him as a top echelon informant; (d) because he was doing his brother a favor; (e) because he gave him money and (e) a reason to be named later.
I'd note even Weeks could only say Connolly got $5,000, if he is to be believed having failed lie detector tests, and he was the guy handing out the payments. Strange though, Connolly is said to have over a dozen other top echelon informants. None testified they paid Connolly anything.
How then can I say Greig was the only one if Connolly also kept his mouth shut. Simply, Connolly had no one to implicate and he wouldn't lie, unlike others, to get himself a deal. As I've admonished people if you are going to commit a federal crime make sure you don't do it by yourself. You need someone to throw away if you get caught.
Greig had lots of information the prosecutor wanted – not the least would have been to satisfy any prurient interest in Whitey's life he might have had so that he could funnel it over to the writers at the Boston Globe and perhaps Howie Carr. 
Are you suggesting the federal prosecutors would leak grand jury testimony to the Globe? They have, as we well know. They gave his brother's testimony to it. So it is not beyond them.
Greig was what is called bushwhacked. She had one of the best criminal lawyers representing her, Kevin Reddington. He knew probation was going to recommend about two years under the federal guidelines. He advised her of that and she elected to plead guilty. The judge hit her with eight. She was sentenced for Whitey's murders about which it was never shown she had any knowledge of. When she fled with Whitey no one outside his helpers knew of them.
Those who have been around for a while know the story. It's good she is out from the worst conditions.  I hope some good folk in South Boston are looking for a location to put up a statue to her – just call it "courage."