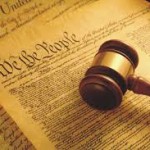 It's time to replace the Second Amendment. It's old fashion. Do you know what is says. Well here it is: "A well regulated Militia, being necessary to the security of a free State, the right of the people to keep and bear Arms, shall not be infringed."
I know, I know, I'm supposed to forget the first part of the sentence talking about the need for an armed militia to keep our country secure. I'm suppose to read the Second Amendment as only saying: "The right of the people to keep and bear arms shall not be infringed" and figure the rest of the language was put there because it had a nice ring to it.
Then I'm supposed to forget that these lines were written over two hundred years ago before we could conceive of having the strongest military in the world. I'm supposed to pretend that today the people need arms to keep our country secure and make-believe I do not know that our government using just a small fraction of its drone power could eliminate any group of people it felt threatened it with arms in a nanosecond. Yes, I understand there is no reference to nanoseconds in the Constitution.
I'm not supposed to try to figure out why the writers of that document thought it was necessary for the right to bear arms not be infringed. But I can. I just have to look at the first part of that sentence. Those who adopted the Second Amendment knew the security of a free state depended upon an armed populace that could resist a foreign invasion, an internal rebellion, or a tyrannical government. Now we have given that job to our military and police. As citizens we no longer play a role in our county's security outside of those forces.
I've read recently people are buying up guns in record numbers because they fear the Government is planning to come and take their guns away.  First, that's not going to happen; but if the Government decided it wanted you guns it'd get them no matter how well armed you were because the Government would always have more and greater arms and a greater force to seized them from you. Remember the pictures we saw on April 19 of the assemblage of local fire power in the Boston area, no one or no group could stand up to that, and that wasn't even the forces in Washington acting.
Don't get me wrong, I don't want to take away your guns. I want you to be licensed to have them. I don't want violent felons to have them. I believe they are important for our self-defense, our pleasure such as hunting, target practice, comfort or any other legitimate reason a person has for one or more of them. I believe the right to possess them pre-dates the Second Amendment. I want to get beyond that.
It is just I think there is presently something much more necessary that we citizens must have now that the security of our free state is established. Here's my suggestion for changing the language to ensure America remains a free state with people having the ability to exercise free rights.
"An open Internet, being necessary to the existence of a free State, the right of the people to keep and bear instruments that provide access to a free and open internet shall not be infringed."     
To me, free access to the Internet is much more important as we slog along through the 21st Century than a person's right to bear arms. The Internet is the first thing an oppressive government will want to control. It was the Internet that brought about the Arab spring; it was the Internet that almost made the Green Revolution in Iran successful. It is the Internet that will give us the knowledge we need to know to stay a free people.
The Government knows it already controls your ability to oppose it by arms. It  also know that through its arms it can control the public protest movements as we saw it do with the Occupy Wall Street movement. We have seen how it has restricted public assemblies by allowing government officials to set up "free speech zones" as it did during the political conventions which are far away from the people one wants to speak to. We have seen it establish "security zones" as it has done around abortion clinics that force people to stand far distances from the people they want to influence..
We have seen the arming of our police forces with armaments more useful to a war zone than a city street. We have seen the creation of new police forces which are layered on top of traditional forces. And we have seen the confusion over whether the military is being given the right to become a police force in our own country.  I'm sure you have heard of USNorthCom the military group established in 2002 which "partners to conduct homeland defense, civil support and security cooperation to defend and secure the United States and its interests." 
We can no longer keep our freedom by arms. We must keep it by speech. We must be able to communicate. That's why the first amendment the writers of the Constitution agreed upon was the right to free speech. The Government will always have greater and better arms and forces than the people; but it will never have greater and better speech than the people. That is what a free people must have. Today the best way to insure that is by protecting it by changing the Second Amendment to protect the Internet.