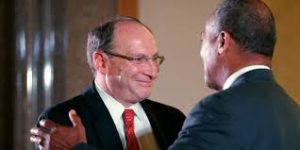 Chief Justice Ralph D. Gants died on September 14, 2020, at age 65. He suffered a heart attack on September 4, went to the hospital where he was treated with two stents, made a  decent initial recovery to the extent he planned on returning to work in a limited manner within days, and then something went wrong. May he rest in peace.
I met him once. I was standing outside the federal courthouse in Boston the summer before last talking to an old colleague, Sarah Hartry. I was attending the memorial services for Judge Joseph Tauro. As he approached Sarah waved at him and he walked over. She introduced him to me as Ralph Gants. I knew I had heard the name before but could not place it. I said hello. We exchanged a few pleasant words. He seemed like a nice guy. He continued on. I asked her what does he do. She told me. I felt chagrined not having immediately known it when I heard his name.
People who did know him were quoted in yesterday's Globe. One, Robert Cordy, sent and email to the Globe saying.: "We served in the US attorney's office together in the 1980s and I have always had the highest regard for him as a person, a lawyer and a judge who cared deeply about ensuring that our system of justice was indeed just and fair to everyone."  Governor Charles Baker said in a statement:  "In his decisions and in his role as the leader of the Commonwealth's judicial branch, he always worked to promote the public good. His legacy as a judge and as Chief Justice is profound, and he will be sorely missed. "
Anthony Benedetti, head of the Committee for Public Counsel Services, said: "a wonderful person who treated everyone with respect and dignity. He was a brilliant, thoughtful jurist who was fair to every litigant who appeared before him." Carol Rose, executive director of the ACLU of Massachusetts, offered: "He was a champion of access to justice for all communities in Massachusetts, a fierce believer in the need to address racial disparities in the criminal legal system, and a compassionate listener to every person who came before the court. His legacy is a testament to his wisdom, his kindness, and his commitment to equal justice under the law"
A "decades long" friend George Bachrach, founder of the Civic Action Project said when he was being considered for the position that, "I told him he was the best choice, but he offered the Governor absolutely no political benefit in terms of race, gender or geography. The only basis for his nomination would have to be on merit, a rarity."
Attorney General Maura Healey said Gants made "incomparable and lasting contributions to the rule of law and the betterment of society. As Chief Justice, he focused on how the legal system affects people's lives, and consistently worked to expand access to justice and racial equity.
It seemed he received universal praise as an upright, ethical man interested in equal justice for all.
So where does Bill Bulger come into play. The Boston Globe  alleged Bulger was involved in wrongdoing with respect to 75 State Street. The Boston U.S. attorney Frank McNamara investigated Bulger's involvement in the matter and found no wrongdoing. The Boston Globe demanded the investigation be done again. The U.S. Attorney General Thornburgh ordered the acting Boston U.S. Attorney Jeremiah O'Sullivan to redo the investigation. After it was done O'Sullivan announced that the case was again being closed since there was no evidence of criminal wrongdoing.
You may recall O'Sullivan was much castigated by the writers at the Boston Globe. others in Boston media, and especially the House of Representatives Committee on Government reform for his decision. They all suggested that somehow O'Sulllivan was not on the level when he came to that conclusion. Much would be done to undermine O'Sullivan's reputation trying to show a link between him and Bulger and suggestions that  he let Bulger off the hook.
How does this related to Justice Gants. Congressman Tierney asked O'Sullivan, trying to show some wrongdoing on O'Sullivan's behalf (it turned out the FBI supervisor in charge of the investigation was John Morris who admitted taking bribes from Whitey Bulger – but not pointed out was he was no friend of Bulger having told the Boston Globe reporters Whitey was an FBI informant -), "When you decided to close the case, did you rely on the word of the FBI?"
O'Sullivan replied:  "Yes, but I relied primarily on the two investigating Assistant U.S. Attorneys who had done most of the work and interviewed most of the witnesses in that case. I relied on Ralph Gantz (sic) and Alex Leaks."  He went on to say that both men interviewed Bill Bulger themselves.
Ralph Gants a man of high esteem who went on to become a superior court judge, justice and chief justice of the Supreme Judicial Court participated in making the decision on Bill Bulger's involvement in 75 State Street. His background, his commitment to the truth, and his love of doing the right thing should forever put to rest the idea of any wrongdoing by Bill Bulger.