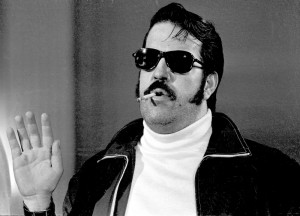 The Congressional Committee Investigation into the murder of Teddy Deegan and into the relationship between Whitey Bulger and his handler John Connolly issued a report on February 3, 2004. In its Executive Summary, on page 3 of that report, it wrote: "Compelling evidence indicates that Jimmy Flemmi did participate in the murder of Teddy Deegan. Nevertheless, he was not prosecuted for the murder. This leads to three areas of particular concern. First, was Flemmi spared prosecution for murder because of his role as a government informant? Second, was Joseph Barboza permitted to leave Flemmi out of his testimony in exchange for testimony against others? Third, was Jimmy Flemmi spared prosecution for murder because the federal government was using his brother, Stephen ''The Rifleman'' Flemmi, as a ''Top Echelon'' informant? Unfortunately, it is difficult to provide a definitive answer to these questions because the Committee has been denied access to potentially relevant evidence."
Here's what we can be reasonably sure of knowing. Vincent "Jimmy" Flemmi and Joseph "the Animal" Barboza were close friends. An FBI intercept disclosed that three days before Teddy Deegan was murdered they asked Raymond L.S. Patriaca the Mafia boss in the New England area for permission to murder him. He said to them they should check with Gerry Angiulo, who was his underboss in the Boston area. The night Deegan was murdered Jimmy Flemmi was seen in the company of Joe Barboza by percipient witnesses. Informant information also put them together.
FBI agents Dennis Condon and Paul Rico were able to convince Barboza to become a cooperating witness. The FBI distinguishes between cooperating witnesses who will have their identities revealed and will testify if necessary and informants whose identity is kept secret and normally are not expected to testify. One of the conditions of Barboza's agreeing to cooperate was that he would not give any evidence against his friend Jimmy Flemmi. Barboza admitted he was part of the group who murdered Deegan.
Barboza testified in three cases for the FBI. One against Gerry Angiulo and others in a different murder not related to Deegan; one against Raymond L.S. Patriarca and others in situation not related to Deegan; and in the Deegan case where he testified against six defendants. He did not include Jimmy Flemmi as one of the persons who was involved in the murder.
The Deegan case was a state case. Although Barboza was a cooperating witness for the FBI he was turned over to the state prosecutor to be used in that prosecution. The state prosecutors brought about the indictments based on what Barboza told them.
It seems clear Barboza did not tell them that Jimmy Flemmi was involved in the murder. We know this because he had already told the FBI agents that he would not do that.  We can now answer the questions the Committee: (1) and (3) in the negative; (2) we would say "in part." Jimmy Flemmi was not prosecuted because he was an informant nor because his brother Steve was a Top Echelon informant. There was simply no evidence to show he was involved since all the evidence of the murder came from Barboza.
The second query whether he was "permitted to leave Flemmi out of his testimony in exchange for testimony against others" is true in part. But the question is vague. He wasn't permitted to leave him out because he never said he was in. True information outside the courtroom from people not available to testify like informants pointed to Flemmi being there. But without Barboza's evidence against Jimmy Flemmi, that he made clear he'd not give, there was no way to prove he was there.
The decision had to be made to take what he would give and prosecute those he said were there or let the murder go unsolved and not have Barboza's testimony in the other cases. The Committee, and later Judge Gertner. would have trouble understanding this simple deal. Apparently though, it is common for it to happen. In the John Connolly prosecution both Martorano and Weeks had deals with the prosecutors that they could leave out people they did not want to name. The same occurred in the prosecution of Whitey Bulger.
Was the Committee was unfamiliar with the practice of federal prosecutors? Did they not understand that sometimes prosecutors are confronted with problems where they can get half a loaf of bread or nothing? Wanting something to chew on they will go for the half.
With the answer staring them in the face the Committee missed it. Perhaps deliberately because then they could present the matter as something quite sinister when in fact it was business as usual.