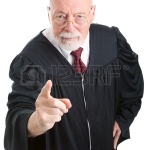 Corrupt as an adjective is defined in Webster's Third New International Dictionary as:  "1 a: DEPRAVED, EVIL : perverted into a state of moral weakness or wickedness . . . b : of debased political morality: characterized by bribery; the selling of political favors, or other improper political or legal transactions or arrangements."
It is best to have agreed upon definitions of words when considering ideas.  On occasion I have people commenting here who accuse the federal judges in Massachusetts of being corrupt. I assume they are not referring to the more limited definition found when one asks Google for the definition which is gives as: "having or showing a willingness to act dishonestly in return for money or personal gain."
The reason some suggest the federal judges are corrupt is that they don't understand that corruption is inherent in our judicial system. That comes about because of the other phenomena that I've written about which is the disparate treatment of what I call poofs, which is the acronym for people out of favor.
There's a gang-up effect in our natures which makes us want to go along with the crowd. Judges are no different from the rest of us. When they see something they have a visceral reaction to it that tells them the thing is good or is bad. They then construct from that reaction their reasoning to a result.
I have mentioned this many times before. I'll do it again. The law is what the judges decide that it is.
I learned that from a very bright lawyer who I worked for. I struggled for hours trying to reconcile two different legal conclusions from facts that were almost identical. Frustrated I went to him for an answer. That's what he told me. It means for poofs the judges will always find a reason to find against you.
We know that in our everyday experience when we read that the Supreme Court has decided a case by a five to four margin. If one judge in the majority had a change of mind because of an outside factors such as a spousal spat or a bad breakfast then the law would be different. We also see that when a prior decision is overturned. What we thought was the law the judges have decided is no longer the law.
This is difficult for many to grasp. Because of it, some people assume that there must be some other reason for a particular decision. Unable to find it, they suggest the judges are corrupt. They assume that it was motivated by some "other improper political or legal transactions or arrangements."
People who are interested in the matters concerning the Whitey saga are especially susceptible to assuming there is corruption among the judiciary. That's because so many of the players on the outside, those who have not curried favor with the Government prosecutors, are looked upon with disdain. The mention of names such as James "Whitey" Bulger, or Retired FBI Agent John J. Connolly, or Catherine Greig bring out in the judges an immediate dislike for them and anything associated with them.
These people calling the federal judges corrupt point to the cases involving the Deegan trial where Joe "the Animal" Barboza testified. The judges have concluded that because he lied about one person being involved the murder and left out another person that three other individuals, Mafia types, were also innocent. They were awarded over 100 million dollars.
I assume this was done, now please forgive me but I'm using a Latin maxim but I do so because the federal courts are fond of doing this to show their supposed erudition, "falsus in uno, falsus in omnibus."  For those of you who either didn't take Latin or took it and soon forgot it like me, it means if you lie about one thing you're probably lying about everything.
Get it, Barboza lied about his buddy Vincent "Jimmy the Bear" Flemmi not being among the murderers and included an innocent guy who owed him some dough, Joseph Salvati. The judges assume he lied about them then he lied about the other three without much more to support that conclusion.
Then these people point to the case involving the much poofed John Connolly. Talk about having no chance! Judge Bruce Selya the First Circuit Court of Appeals starts off the decision with this line: "The federal courts are by now painfully familiar with the Winter Hill Gang and its corrupt relationship with the Boston office of the FBI. . . [Connolly] has been prominently featured in several such opinions.'
You don't have to go any further than that to know the outcome of the opinion. People familiar with what happened in the Deegan and Connolly cases though can only scratch their heads. In the Connolly case one of the three main gangster witnesses against him was Frank Salemme, former head of the New England Mafia. He lied during his testimony when he denied being involved in murders while being Mafia boss. Unlike the Latin maxim coming into play, the court found this was a "minor moment." It said the jury was "aware of Salemme's nefarious past and had good reason to believe that his every word was not deserving of unqualified respect."  This same thing could have been said of Barboza but wasn't.
These people also know there was even a better reason for Connolly to have received a new trial. Salemme testified at Connolly's trial that he gave money to Stevie Flemmi to give to Connolly. (See Don't Embarrass the Family, p. 231). He told an FBI informant CS who was in prison with him that he "never gave CONNOLLY anything, including money." He said the prosecutors pressed him to say he did. They also told him it was his chance to get even with Connolly. There was much more that showed Salemme's testimony was falsely motivated and full of lies including the prosecutors giving him the book Black Mass to refresh his recollection.
Judge Selya analyzed the information from the CS. He wrongly labeled it as a recantation. It wasn't. It was never intended to go beyond the CS. He went on to conclude that if Salemme's testimony was a complete lie "it would not prove very much. In his musings to the CS, Salemme gave no indication that the appellant was innocent of the charged crime." In other words witnesses can commit perjury if they believe a person is guilty.
Think of these cases when you wonder why people suggest the federal courts are corrupt. In one case the perjury leads to freedom and 100 million dollars, in another case it amounts to no relief.