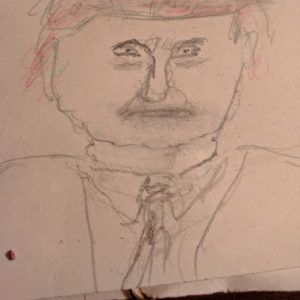 There was Donald Duck and Daffy Duck and now we have Daffy Donald. Who would ever think a cartoon figure would be in charge of the American policy. Thanks to millions of begrudgers America has entered into the comic book era.
Daffy Donald (DD) recent budget proposed major cuts in food stamps and other programs to help the poor. He wants to cut the taxes on the rich. Meanwhile we were treated to Melania-Antoinette's response not with the verbal "let them eat cake" but its equivalent when she took her first outing in the Sicilian sunshine in a colorful floral applique jacket by Dolce & Gabbana that sells for $51,000.
She and her husband have the attitude of Leona Helmsley:"We don't pay taxes. Only the little people do." Is Melania-Antoinette taking over as "the queen of the mean"? Trump said about Leona, "Leona always liked having me around. . . . I was always asked to be [at her parties] and was always given a seat, usually right near her."
Ah, yes, we've put a couple of beauties into the White House. They flaunt their wealth while working hard with the Republicans to take away from the poorest among us (afflicted by poverty by their state of mind). Strangely they are hugely popular among the Evangelical Christians who apparently like the old WASPs suggest that favor in God's eyes can be judged by the amount of money a person accumulates.  The secret of the Evangelicals, and some other Christians, love for the president is not so much that they believe he lives a Christian life (even they know better). It is that he sticks his fingers in the eyes of others who they do not like. How they consider themselves Christians escapes me but I console myself thinking as G.K. Chesteron said: "the trouble with Christianity is that it has never been tried."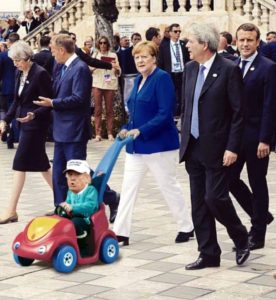 We're now at the point with DD has returned to from a trip abroad where he showed his fondness for people who sucked up to him and his disdain for our long-term allies.  Why is he Daffy? During the trip he spoke these words: "We are not here to lecture — we are not here to tell other people how to live, what to do, who to be, or how to worship,. Instead, we are here to offer partnership — based on shared interests and values — to pursue a better future for us all."
 Our shared interests and values with our European allies are well know but Trump was not speaking to them. He was talking to the Saudis and other Arabs in the region where Christians are routinely executed and prohibited from building churches or openly worshiping. He was in a nation that bars Christians from going into the holy parts of it. He was talking to people who demean women and treat them as lesser people.
Then he went to Europe to where the people share the values that made this country into what it is: after all the people who founded it were Europeans who came here with the ideas developed in those nations. There he lectured the people. There he scolded them over money. There, like some who write comments here, he acted as if NATO had no part in America's defense against the Soviet Union as if had we not had bases in NATO countries the Soviets would have stayed their hands on grabbing more countries than Hungary or Czechoslovakia.
He fails to openly commit America to its obligation under NATO article 5 as every president since Truman had done. He spurns the call for backing the Paris initiative on Global Warning a subject all recent American presidents and the rest of the world have backed. He went over among the free European leaders as well as Putin would have done. It seemed he was reading from a script handed to him by Putin.
That he has alienated our good European allies is clear. Angela Merkel had announced that Europe must plan to go it alone without consideration of American desires. She said the former relationship was "over to a certain extent. This is what I have experienced in the last few days." 
DD is giving us new allies: China, Russia, and Saudi Arabia.  I suppose I shouldn't call that daffy. There must be a worse word to explain it.