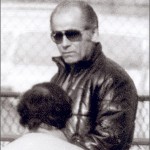 The prosecution ended as expected.  Not much to talk about what happened from an evidentiary point of view. The first witness from the IRS police force has spent years doing a review of the financial transactions of Whitey and his friends. For 45 minutes or so we listened to how Whitey was doing all sorts of tricky things with illegal money to try to make it look like he was earning legal money. All the evidence she put in had already been put in before.
After her came the FBI Special Agent Scott Garriola who grabbed Whitey in Santa Monica. He told how Whitey went around telling him where he had hidden his guns. Whitey told him he was cooperating with him because he wanted to see if his cooperation would inure to the benefit of Catherine Greig. Garriola was a good witness answering questions in a forthright manner without any hesitation the way a good witness will.  He said he would note in his report Whitey's cooperation which he did. A lot of good it did. Catherine Greig got the harshest sentence ever imposed upon a woman in the United States who had no record and who was charged with a non violent crime.
Garriola's testimony put together the necessary picture of Whitey and guns. We started off hearing about guns. During the trial we heard how they were put to use. We ended hearing about them again.
After that the prosecutor rested and the judge discussed the future. It seems we can see the light at the end of the tunnel. J.W. Carney said he expects to put on witnesses on Monday and Tuesday. Then the case will be over; except if Whitey testifies.
The status of the case is such that Whitey must testify. Carney and Brennan don't want to show their hand but how could Whitey possibly walk off the stage now.  He has a lot that he wants to tell us about. He's thinking of his reputation – how he will be remembered.
All along I've noted only two things are important to him, although listening to today's testimony about his interaction with Special Agent Garriola I realize there is a third thing.
Carney talked about the first thing in his opening. Whitey knows the history of the Irish. The bane of their long subjugation by the British was the informer. It was that type person who undermined the attempts by the Irish to throw off the British yoke. He does not want to go down in history, and he knows these are the last days in which he can have a say in his history so that all things people made up about him can be challenged, as an informant and join the ranks of those low people. He'll  testify that he was never and informant.
Whitey' desire to shed that from his reputation is the only explanation for Wyshak's attempt to show that he was an informant — that makes him argue in one court that Connolly never got anything of value from Whitey and then here that Whitey was a valuable informant . Wyshak want to take away from Whitey any last ounce of respectability even though he has no problem benefiting people like Martorano and Flemmi who are much worse than Whitey.
Whitey will have to talk about his life to prove he's not an informant. Boston media has accused him of being an informant when he confessed to a robbery to save his girlfriend from the clutches of the FBI. A long time ago I pointed out how absurd that allegation was. But it's telling that each time he was arrested, his main concern was not himself but the woman he was with. He'll tell how all through his incarceration when he was jammed in and how by informing on someone or another he could have made his life easier that he refused to do it.
Then he'll explain how Agent Condon approached him in 1971 during the Killeen/Mullen war and told him the FBI would protect him from the Mullens if he would become an informant. Condon jumped the gun and notified the Seat of Government (FBI headquarters) he was on board. Condon went back to Whitey who told him to take a walk, he'd take care of himself. Then he'll explain how keeping with his tradition he paid for information and never gave any.
Next, Whitey wants to make it clear he had nothing to do with the murders of the two women. He wants to put that totally in the lap of where it belongs, Steven Flemmi. Even though any unbiased person would recognize that Whitey had nothing to do with their murders especially because the reasons offered Flemmi for him wanting to have them murdered are lame, nevertheless Whitey wants to tell the world how the women were murdered by Flemmi and the reasons why Flemmi did it by himself.
Finally, he'll set the matter straight relative to Catherine Greig, not that he has to do so because Special Agent Garriola has told us how he cooperated fully asking only that Catherine be given a break. I always thought Whitey was too selfish to do something like that. So I wonder whether he'll have more to say in that area. Will he testify, as he wrote to Billy Dick Sunday "I never loved anyone like I do her and offered my life [execution] if they would free her — but no they want me to suffer — they know this is the worst punishment for me by hurting her!" Did he do that and the federals turn him down causing this unnecessary trial and the attendant costs out of spite.  
If you have any doubts about his testifying, put them aside. Next week will end with Whitey taking the stand.