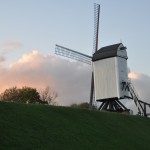 Benji Ditchman, aka, the Vileful Man, finally appears. He tells us he's in a special prison somewhere that's for person's like him; witnesses who made deals to turn in their fellow criminals to help themselves. He said he's prohibited from telling where it is but judging from his pasty complexion he's not in warm climate.  He told us he pleaded guilty in Florida and Oklahoma and is doing life sentences imposed by those states.
He also got sentenced in the Boston federal court to life and to 30 years after life. He said he entered those pleas to avoid the death penalty. I couldn't help smiling at that. He's 79 now and he's still clinging to his empty life. What was it he said to a young Debbie Davis before he strangled her? I believe he told her "you're going to a better place."  If it was so good, why is he so reluctant to join her?
He's been in prison for 17 years. He expects to never get out. I wish I could believe that would be the case but I really have my doubts. The witness who just got off the stand Dirty Dave Lindholm said when he testified against Alfred Trenkler he didn't expect any consideration from the government  for his testimony; after Trenkler was safely convicted Trenkler changed his mind and sought the help. It left a sour taste in my mouth, as one of those deals that's understood but not reduced to writing. So I remain skeptical that Flemmi will serve his full sentence.
Flemmi admitted murdering ten people by answering yes to the names mentioned by Wyshak. He's leaning back in the chair; says he's deaf in one year as a result of a war injury. He's changed his testimony about when he became an informant saying that Whitey introduced him to FBI Agents Condon and Connolly in late '74 or '75. That's nonsense. Agent Condon worked with him to bring him back from Canada to get rid of the a murder and blowing up an attorney's car case. He admits he was an FBI informant in the '60s but pretends at some point he stopped – but we didn't get into that. Hopefully Carney will on  cross-examination.
He then says what Bulger was like in the relationship was overbearing and forceful. Wyshak then says, "more than you."  He said yes. He's getting ready for his lament – I think there was a song to this effect back in the years Benji was running wild  – its words were 'you made me do it, I didn't want to do it, I didn't want to do it, you made me do it, and all the time I knew it, I didn't want to do it."  The only purpose for the "overbearing and forceful" question is to present Vileful Man as having his will overcome by Whitey.
Wyshak's anxiously spreading that story – that's why he's indicted Whitey for the murders of the two women when the only guy who had to motive to murder them is on the stand – Benji didn't want to do it but Whitey made him.
Benji by the was is wearing a jacket of prison pee-green with an open collar cotton prison issue shirt with matching color. I'd have thought they'd have wanted to dress him up better; Murderman even when in prison came to court dressed to the nines.
I'm sort of wondering why Flemmi is testifying at all. Whitey never did anything to him so why doesn't he just tell the prosecutors to leave him alone. He's made his deals; he's never going to hit the street again; so you just gotta wonder what could the government be holding over his head?  It couldn't be — no they wouldn't dare be pulling that — or would they. I told you that I'm not convinced there's no side deal here – like in Dirty Dave's case – where there is nothing in writing but there a tacit understanding that's what will happen when the lights go down low.
Flemmi did his best to keep Whitey out of the Underworld Hall of Fame by saying he, Whitey and Connolly met frequently and Whitey was always giving information to Connolly.He did it hundreds of times. He'd give Whitey information and he'd pass it on to the FBI. He never met Connolly without Whitey being there and when they met Whitey would do all the talking.
Tomorrow we will get into the nitty-gritty of the murders. He'll diminish his and the Murderman's roles and highlight Whitey's — as you know of particular interest will be when he puts it on Whitey for the murder of the two women.
We have to keep in mind that Wyshak has to make Benji less vile than Bulger because you never want to deal from the top to get lesser criminals. In actuality,Whitey is in the minor leagues when it comes to murder when compared to the Vileful Man but truth doesn't matter now, it is just perception.