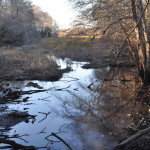 Somewhere in the back of my memory there was a dance called the stall. Or was it the crawl? I've got the impression it was done in slow motion with the steps being endlessly repeated over and over again in stultifying manner. That's how the rest of today wore on, and it's not done.
Flemmi the vile and Flemmi the cruel is still on the stand and will be as the doors of the courtroom open tomorrow.  Maybe I'm in this foul mood thinking that I'll have to sit through prosecutor Wyshak doing his tedious redirect examination tomorrow. Flemmi went so much off script that Wyshak will need hours to bring him back in line. I'm in agony thinking my eyes may be fouled by him for another full day. If only Wyshak was smart enough to know that he should let beaten dogs lie.
I'm no good at being noble. But it doesn't take much to see that the problems of mine don't amount to a hill of beans in this crazy trial. So I'll tell you what happened during the rest of the day, Ilsa.
Just before the mid-morning break Flemmi was trying to explain why if the death penalty meant nothing he didn't just go in and enter a plea of guilty and get it over with.  The second part of the morning had us listening to how Flemmi spent three years in special confinement at Walpole prison which had him complaining about the conditions. He had a tiny cell, bad food, no television, no radio, no books and didn't get a decent night's sleep. He complained to Judge Wolf, the same judge who found Michelle Kosilek suffered cruel and unusual treatment from the state of Massachusetts because it would not pay for her to become a Michelle inside-and-out.
Because of his complaint, his jailers operating under the theory of "you think where you are is bad, wait 'til you see this" transferred him to New York and put him in a worse cell that was totally enclosed with only a trap through which he could get fed, where he never saw another person but only heard their screams during the night. Brennan tried to compare it to what Whitey was now suffering, strip searches, lights on 24 hours, camera in his cell, and guards outside.  I thought as he was doing it that Whitey is going to look back on his confinement at Plymouth as a walk in the park compared to where he will soon find himself.
I know Brennan's point was to get across the idea that Flemmi was a big baby complaining at everything and would do anything to ease his way through prison life, but it's a point most jurors clearly understand by now. Although, it is a lesson to all of us that the power over one thrown into the hands of the faceless bureaucrats who run our prisons is immense and that some of the people who work for them are as brutal and sadistic as the worst of the prisoners.
The next thing Brennan ventured into was when did Flemmi come up with the idea that he'd get a good deal if he threw in the name of an FBI man, was it before or after they questioned him. This went on a bit. At one point Brennan wanted to name each FBI agent Flemmi named but the judge cut him off at the pass as he was about to begin.
We then returned to the many differences in Flemmi's testimony from what he testified in the trial to what he told people at other times. His proffer statements where the investigators in their report of his interview wrote one thing and he was now telling another he blamed on the investigators incorrectly recording the information. He went though other instances where his prior testimony did not match his present testimony with Flemmi insisting that black was white.
A lot more time was spent on his recollection of the conversation between Whitey and Martorano about World Jai Alai. Flemmi had no specifics to offer but insisted that it happened; and then whether they wanted Martorano to bury Callahan or leave him out to be found; and finally on Pat Nee's statement concerning the Halloran murder.
If the jury hadn't figured out what Flemmi was about early on in the day they never will. I'm tired of looking at the man. His act wears thin.
My big problem with most of the day is that the overriding thing in this trial, which seems to slip past the litigants, is that Whitey is going to testify. I understand that some of what Brennan is doing he is undertaking to please his client who is inwardly delighting in seeing his ex-buddy squirm. The look in Flemmi's eyes at Brennan when he lets down his guard says "who is this punk showing me such disrespect. I've broken guys twice his size. If I had a gun I'd him have crawling and begging for mercy."
It's been fun watching the beating but it's time to let him go; the summer is fleeing and we're anxiously awaiting the main act.