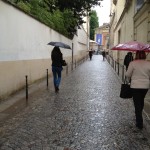 I tweeted during Wyshak's cross-examination of Heather Hoffman the following: "This cross-examination will be talked about in all law school classes far down into the future. Everyone is on edge of their seat."
All of that was not true. One sentence was but the other wasn't.
Not everyone was on the edge of her seat. Two or three people were but that was because they were dozing off. Most of us perched patiently leaning back in our chairs inwardly pleading for Wyshak to sit down. But it was not to be, he ran on until after one o'clock.
The other sentence is true. His cross should be taught in every evidence class in all our law schools as an example of how not to cross-examine a witness. To know this you have to put this in context.
This is a 32 count federal indictment charging violation of the drug, weapons, money laundering and gaming laws along with extortion and racketeering. The racketeering indictment has 19 murders as predicate offenses. Finding Whitey responsible on two of the 19 will prove the indictment. The issue is whether allowing Flemmi to keep the 7 properties induced his cooperation. This is so far removed from the real issues of the trial that it was barely admissible.
The witness Hoffman is a lawyer and highly skilled woman earns her living as a title examiner. She really knew her business. She testified on direct that she was asked to do the ownership search of 7 properties. She did and she presented the results. The purpose of her testimony was to  show Flemmi owned the properties.
Wyshak wanted to show that she had no idea of the value of each of the properties. He could have done that with one question or perhaps 7 if he wanted to deal individually with each property. But he didn't do that, he wanted to prove, I think, that he knew something about property valuation. But in doing it he showed how little he knew. He couldn't get it in his head that this slight soft spoken woman had a big brain and a brimful of intrepidness. She was an expert in the area and he wasn't. Even more, she wasn't going to be bullied by his loud voice.
He'd give a little speech and end it by saying, "is my understanding correct?" Invariably she'd say "no." She'd then add in all the factors that he left out. He'd get a little angrier, raise his voice, go through another hypothetical question and she'd slap him down again. Mercifully after fifty minutes of testimony, thirty on cross examination she stepped off the stand. Fifty minutes on an issue that means next to nothing.
Earlier State Police Lieutenant Detective Steve Johnson testified. He's been on the job over 31 years and has been tied in with this case for, as he said, "too long." He made an excellent witness being quite honest, intelligent and forthright answering the questions straight out without equivocation, mostly with a yes or no, or when necessary a cogent explanation.
He testified for about 40 minutes. Brennan got out of him a few inconsistencies in the testimony of the gangsters which probably backfired on Brennan because there were so few which would mean all the rest of their testimony was consistent with their first statements. The big issue during his short testimony was whether when Whitey shot Bucky Barrett in the head, Martorano was in front of him or behind him. It seemed both sides agreed that Whitey shot him which seems to me to be the critical issue.
As far as I was concerned everything we did after recess will have no bearing on the case so it was pretty much a waste of time.
Did you ever notice in baseball that some pitchers seem to be very good against certain batters; in football one coach always beats the other no matter how their teams are doing otherwise; in chess a top master can't seem to beat one particular person who is ranked much lower. We say of the person who routinely comes out ahead of the other person that he's got the other person's number because there seems to be some type of psychological factor that causes one to continually be thrown off his game by the other.
It seems to me in this case Carney has got Wyshak's number. So much so that it has reached the point today where Wyshak was moaning to Judge Casper that she should hold Carney in contempt. So much so that a case that could have been over in five weeks is now entering its eighth week. So much so that reporters in the courtroom said Whitey was actually laughing at Wyshak as Heather Hoffmann left him babbling. 
Early on Carney knew Wyshak would go chasing off after the informant issue like a Colonel Jackson's hounds chasing the British down the Mississippi in 1812. Wyshak brought it into the case trying to prove Whitey was one rather than putting the onus on Whitey to prove he wasn't. Opening the informant issue, he opened the issue of the FBI. Doing that we got involved in discussing John Connolly and John Morris, neither man being relevant to the issues pending in the trial. Then look at all the wasted time on money laundering.
In the first 7 days of the trial Wyshak had put in sufficient evidence to win the gaming, drug related, money laundering, and gun charges, which were pretty much conceded by Whitey's lawyers, and evidence on 15 of the 19 murders. Then things began to fall apart and we've fallen to where we are today.
There is good news ahead; tomorrow we will find out if Whitey will testify. There is bad news too; we may find out that Whitey will testify.
I know everyone wants to hear him but I've pretty much had my fill with gangster testimony. I never watched those gangster programs like the Soparanos. Never understood the fascination Americans have with them. Hearing the tale of one less gangster would suit me just fine.
'