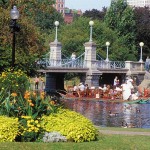 Today brought us two witnesses – Montanari the retired FBI agent and then Michael Solimando.
Brian Halloran told Montanari that Whitey Bulger had on his payroll a guy who worked at a grave yard and would bury people for him. I think this witness Solimando is the guy. I say that because unless Brennan can do something on him on cross, the games up. This guy really buried Whitey.
I wouldn't be surprised if the jury didn't come in tomorrow and tell the judge they had already agreed on a unanimous verdict, guilty on everything.
Solimando is a guy of 64 years but looks a lot younger because he's been working out all his life. In fact he wishes he was a lot younger because when he was first asked his age he said 34, apparently that's what he's telling some of the young ladies he is meeting, but realizing he was in court and he's going to be talking about things that he was involved in before he was born, if he were 34, he looked around, seeing no one there he knew, other than Whitey, he confessed to his true age.
An engineering graduate from Villanova he's been in the construction business for 40 years. One project familiar to us Bostonians is the bridge over the Swan Boats, pictured above. So he's a guy who has done something with his life which in this cast of characters means something, well it means a lot.
He's also a hang-around type guy liking the night life and the night spots. Early on he was involved in a project around Chandler's Restaurant in the South End which was owned by Jimmy Martorano and Howie Winter. He'd go there to have few pops while waiting for the traffic to clear on Fridays. He knew Jimmy who was a dozen years older than he was because he was a classmate of his sisters so he'd talk to him. Jimmy introduced him to his good friend,Steve Flemmi, (Benji Ditchman) who he worked out with for six to nine months before changing his residence,
He moved into Boston above the Rusty Scupper down on Commercial Wharf – there he met John Callahan ("a very gregarious person, always laughing, always with a bright side to him.") and became friendly with him. He also knew Brian Halloran from the Nightclub Softball League; Brian played first and he played shortstop. Brian and John hit it off because they loved Irish music (not  Solimando's cup of tea) and would hit all the local Irish bars.
He, Callahan and a lawyer Della Forna bought a building at 126 High Street in Boston. He was going to do the construction work on it. When he heard Halloran was killed he asked Callahan what he knew about it. Callahan said he was working with law enforcement and telling stories and that did him in.
He noticed a short time after the Halloran murder Callahan lost his happy edge and turned morose. He inquired of him and Callahan told him: "Whitey and Stevie don't think I'll stand up." He pressed him but Callahan said forget it.
The last time he saw Callahan who he said was a big guy who liked to wear gold jewelry and Rolex watches was when they were scheduled to go to the Cape with one of Callahan's friends. Callahan backed out with a lame excuse of having to go to Florida to do something to his Cadillac. Solimando said it made no sense to him – he told Callahan to sell the car.
What done did Whitey in was Solimando's tale of Stevie his old friend inviting him to come over to Triple O's to get together with him and some friends – he went and upstairs in a gloomy room he met Whitey and Weeks – he told how Whitey had a gun in his face above trying to squeeze him out of $400,000 and then took a machine gun Weeks gave him and held it under a card table with the barrel pointed between his legs – telling a joke of how it was hard to tell whether Brian Halloran died because he was full of lead or whether the was electrocuted he had so many wires on him – the three hoodlums laughed at the joke.  He eventually paid the 400,000 – Why did you pay it? Zac Hafer the prosecutor asked him – he said "I choose to pay them rather than get killed."
Compelling testimony – believable testimony – the hens coming home to roost – if that's what they do; in other words it's no longer the guys with the big records and the big deals who are telling the story of Whitey – it's a legitimate business man.
Whitey told Weeks, if you believe anything Weeks said, that he was against the killing of Wheeler because he was a legitimate business man. He should have listened to himself. He extorted money from a legitimate business man and now he's receiving his pay back. This one makes all the difference. I wonder if he thinks the $400,000 was worth it now.