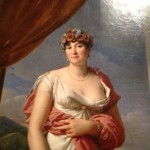 I keep scratching my head at the government's approach to this case. I guess it is because I marvel at J. W. Carney's ability to have it chasing its tail. Today a former customs officer was testifying about his involvement with John McIntyre, allegedly one of Nee's  Whitey's victims. McIntyre gave a 50 page statement to the customs officers telling of all the dirty deeds he had done and none of it related to Whitey, but a lot was about Pat Nee and Joe Murray. I didn't see him helping the government's case.
But in his statement McIntyre said he heard Joe Murray owned a liquor store on the South Shore and he asked if it that was the liquor store in South Boston owned by the Southie guys. Everyone concedes pretty much that Whitey was one of the owners of a liquor store in Southie. Weeks testified to it. He was not questioned on it.
Carney gets up in cross-examination and says something to the effect, "isn't it true you never said the Southie guys owned the store."  I'm thinking who cares what he said we already know they do. The customs guy says he thought he said it. Carney then brings out a transcript and he and the customs guy do a dance over this non-issue for five or so minutes.
When Carney finishes and sits down the prosecutor gets up. He then returns to that issue in order to correct the witness's memory. He wants to prove that the witness did say that. No one cares or little remembers whether he did or not.
It is happenings like that which makes me wonder whether the prosecutors have a sense of the case. If it's a non issue, let it go. Carney's just making them run in circles. Nothing in this case depends upon whether McIntyre did or did not say the Southie guys own the store.
Then the next witness who comes in court is probably the most despicable witness I've ever seen – David "Dirty Dave" Lindholm. Here's a guy who seems to be a professional prosecution witness. A few years back he's doing 8 years for marijuana conspiracy and tax evasion and happens to get put together with the guy in Plymouth House of Corrections named Al Trenkler. Trenkler who has kept his mouth shut through thick and thin allegedly and conveniently makes a jail house confession to Lindholm a guy he doesn't know.
Dirty Dave runs to the cops with it. He testified, I'm told, that he had no promises, inducements or rewards for his testimony. He just was being a good citizen.Then after Trenkler is convicted, Lindholm is let out prison with time served. Such Luck!
Next thing we know he's making many millions dealing marijuana and hanging around with Jimmy Martorano and Joey Yerardi. They bring him to the Marconi Club. Jimmy drops him off, sort of like he dropped off Bucky Barrett at 799 East Third Street just before he was killed. It's like Mafia guy Jimmy Martorano is a taxi service for Whitey. He brings people to be killed or extorted and conveniently leaves the scene just before Whitey puts on his act.
Anyway he's brought into a room and Whitey does the "your life or your money" routine, the same one used by the bandits on the king's highways that we read about in 19th Century English novels. Dirty Dave says he wasn't worried, he had 4 million near by he could have put his hands on but he wasn't going to give that up. He figured the way Whitey was asking him questions that Whitey didn't know he had that much money. He was absolutely convinced when Whitey asked for a measly million but he figured he'd bargain Whitey down to $250,000.
Whitey agreed, told him he'd cut off his head if he told anyone, then he shook his hand and said he did a good job. After that the other three guys with Whitey got up, they invited Jimmy and Joey Y back into the room, the seven of them linked arms together and swayed to the melody of their voices singing Kumbaya. Well what I said in the last sentence didn't happen but it would have fit in well with the rest of this guys testimony.
Not only is he a professional witness, he's an accomplished liar. I could only wonder what the government is giving him for this bit of foolishness. Does he get to keep the millions he made in drug dealing? He said he has his own business, I wonder what it is. This guy is ripe for the picking on cross-examination. As I tweeted earlier I'm sure the jury has nothing but disdain for him.
I can only think the government feels it has to use sleaze bag witnesses because it had made deals with them. If their case wasn't as strong as it is, Whitey could very well be walking out the door.