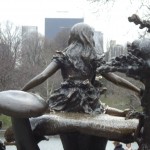 Here's what we knew from the Connolly trial and from the books the Kevin Weeks has written.  Weeks was the lookout for Whitey when they drove down to the waterfront in South Boston on May 11, 1982  to murder Brian Halloran and Michael Donahue.  Whitey was driving what he called the tow truck which was a souped up car with some James Bond gadgets that went 150 mph if need be. In the back seat of the car was a man who would participate with Whitey in spraying bullets at Halloran and Donohue. This man waved at Weeks at one point but Weeks did not know him because the man was wearing a ski mask. Afterwards, Weeks never learned or bothered to inquire who his co-felon in the murder was, a person that could send him to prison for life.
Weeks testimony in effect is that he went down to murder two guys with two other guys and he never knew or inquired as to the identity of one of the two  guys who he knew. It's not a very plausible story. The prosecutors apparently had no trouble with believing it, though. I'd have thought that if they were making a deal with Weeks for his testimony they would want to know who was Whitey's partner in murdering two people and would not let Weeks pass off the ski mask story. But apparently not, they believed him or else they would not have let him testify.
Now it turns out his story is a lie. He does know who the other guy in the car was. It's just that he doesn't want to tell us. He wants to protect this person who murdered two people. The prosecutor seems indifferent to this. How do I know that he's lying? It seems his quite improbable story has become totally improbable because a new witness has surfaced. I shouldn't say he's a new witness because he was interviewed by the FBI and other police agencies at the time of the murder of Halloran and Donohue. He's new in the sense that what he has told them has not been in the public realm for had it been the prosecutors would not have let Weeks testify like he did.
This newly discovered witness was interviewed by a CBS reporter for WBZ TV.  I recommend you watch the interview to get a feel for the chicanery that has been going on in these matters. The major thing he brings to light from my point of view is that he could see the man in the back seat's hair, he had black hair. He obviously had no ski mask. He gave this information to the FBI back in 1982. The FBI knew, and must have hid from the prosecutors, that Weeks had to have made up the ski mask story. They then let him go into court to perjure himself.
You see they had to know because when you debrief a person about crimes he is offering to testify to you go back through the prior reports of the incident and check out what the evidence is back then. When Weeks came up with the ski mask story, they would have seen he was lying because a witness, at least one, said he could see the man in the back seat's hair. Not only that, he was given a photo line-up to try to identify him because the FBI  must have believed he saw his face.
Now it seems to me the prosecutor is on the horns of a dilemma. If Weeks lied, as seems obvious, he committed perjury at Connolly's trial.  The prosecutor would want to charge him with this since Weeks testified if he didn't tell the truth he would be prosecuted for perjury. I don't suppose it will look too good for the prosecutor indicting one of its main witnesses against Whitey just before his trial. The prosecutor is also faced with the problem of putting Weeks on the stand knowing that he lied the last time he used him. It shouldn't be permissible to put on the stand a known liar who has already lied about material facts.
There's more to it than that.  The person who was in the back seat firing at Halloran and Donohue has committed two murders. He should be prosecuted for them. I do not understand how the government can decide to withhold the identity of such a person and let this murderer roam the streets.
I have speculated on who that person is.  It's pretty clear from Weeks' book that he is trying to keep Pat Nee, Whitey's partner, out of the picture. When John McIntyre was killed Weeks said an "other guy" drove him to the house; when Halloran was killed Weeks said the guy in the ski mask was there.  Pat Nee wrote a book.  He admits being the  "other guy" who drove McIntyre to the house. Putting Weeks' and Nee's story on the McIntyre murder together, one would think Nee would have been charged with the murder having brought him to the house and buried him. But he wasn't. One also would have thought that if he is the "ski mask" guy he would have been charged with the murders of Halloroan and Donohue.
Which brings me down to this interesting question. If Pat Nee is the guy who has been let slip on the McIntyre murder, and if he has been let slip as the guy in the ski mask, and seeing that he only served less than four years for his role in running the guns to Ireland (half the time of Catherine Greig) are we looking at someone who is being protected as a top echelon informant?  I hope J.W. Carney files a motion to find out whether Pat Nee is a federal informant. Or, I'd hope the FBI will come out and say that he's not a top echelon informant. This is too important to let pass.
Wouldn't it be something if Pat Nee were a top echelon informant being protected by the FBI and he is running the rackets in South Boston which would mean we learned nothing from the Whitey years and John Connolly is in prison for doing what the FBI is doing today.  This is a very interesting development in this case brought about by a witness who has been hidden for thirty years. No wonder the government wants to rush to trial.