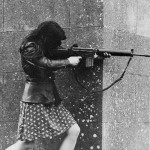 Carney and Brennan (C&B) wrote to Wyshak and Kelly (W&K) a letter on May 10 (May letter) with the greeting "Dear Brian, Fred, Zach,"
It was a letter seeking discovery of some more material. I'm sure W&K are happy to be still involved in the discovery aspect at this late date.
Earlier on April 22 (April letter) they wrote to W&K asking for other discovery. In that letter they set out the list of potential witnesses the prosecution intends to offer, around 50; and set out the number they will bring in in their case-in-chief which is 21. Here's a look at that letter.
Within these letters we can gather hints of where the team of C&B  are heading in preparation for the trial. The first request in the May letter is for postcards Joe Murray reportedly sent to Jeremiah O'Sullivan "detailing criminal involvement of Pat Nee and Steven Flemmi relative to the Barrett, McIntyre and Halloran/Donohue murders."
Murray is the guy whose wife called Bill Weld, who was then in charge of the Department of Justice's criminal division, telling him among other things that Joe knew who was involved in Halloran's murder. He was interviewed by FBI Supervisors Ed Clark and Ed Quinn. Quinn is on the defendant's witness list. Their report left out what Murray said during his interview about these matters.
Pat Nee is the gangster from South Boston who wrote a book alleging he was Whitey's partner. He is on the list of witnesses for the defendant. You read that right. The guy who said he was Whitey's partner in South Boston from 1972 on is not  being called as a witness by the government.
Now why would it be that the person who sat down with Whitey at a peace meeting at Chandler's in the South End that was overseen by Howie Winter and some North End wise guys that put an end to the Mullin/Killeen South Boston gang dustup and who thereafter split all the criminal proceeds with Whitey be called by Whitey rather than the government? It would seem he'd know a lot more about Whitey's crimes than anyone else.
Apparently, the rumors of Nee having a special relationship with the FBI might be true. Here's what the talk on the street is. I remind you I can't say it's true but some have said that Nee was the person in the back seat of the car firing a machine gun when Whitey murdered Halloran and Donohue.
Remember Kevin Weeks (crucial government witness) has testified to an absurd story that the man in the back seat had a mask on and he couldn't identify him.  But civilian witnesses said the man had no mask. It seems Weeks is covering for his pal.
In the April letter in paragraph 4 C&B pointed out that a confidential government source told the government that Weeks and another "sent messages to various people that, although they were cooperating with the government" Weeks and the other "would not harm them."
In the patois of the street that means they'll lie to the government to protect their friends.  That's what Joe Barboza did. He told his buddy Jimmy Flemmi who helped him murder Teddy Deegan that he wouldn't harm him. He put an innocent Joe Salvati in the murder car rather than Jimmy Flemmi.
What Weeks told Nee is I won't dime you out and if I have to I'll put someone else at the scene rather than you. This seems to give credence to the story that Nee was the man in the back seat.
Here's one of the government's big, big problems. Both Weeks and Nee have written books about these things. They never thought Whitey would be captured. Now they are going to be confronted with the many tales in their books.
For instance, they both put themselves at the scene of the murder of John McIntyre. Weeks got a deal from the government so he admits his involvement; Nee pretends he only drove McIntyre to the murder house owned by his brother and returned after he had been murdered to bury him. Reading the story of Weeks and Nee together, one could conclude Nee was a lot more deeply involved.
Smelling my way through these matters I get the scent that Whitey is going to suggest he was not involved in the Halloran/Donohue murders. He's going to pooh-pooh the idea there were two cars involved; he'll suggest there was only one: it was driven by Weeks and Nee was in the back seat.  Or if he goes with the second car theory then Flemmi was driving the murder car.
As for the McIntyre murder, the one with the best motive to murder him was Nee. Nee was the main person behind sending of the Valhalla with the arms for the IRA. He had close ties with John McIntyre who could tie him in with planning and financing the job. McIntyre dealt with Nee, not Whitey.
The strongest murder case against Whitey is the Halloran/Donohue murders. It looks like he's going to go right after that and try to get himself out of it. If he does, and he can show Nee was part of the murder and the government was hiding that through a deal with Weeks, then there might be a great jury nullification of everything put forth against Whitey.  Remember Whitey doesn't need a not guilty, one juror with a reasonable doubt will keep him in Plymouth where he wants to stay.