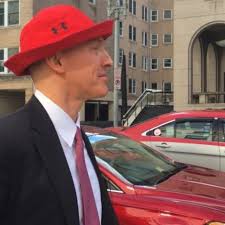 The MEMO talks about Carter Page the subject of a FISA warrant. According to the MEMO: "Page is a U.S. citizen who served as a volunteer advisor to the Trump presidential campaign." A better description would be "a Russian stooge who worked to undermine U.S. citizens."
What is it that we know about Page? Is it because he was a volunteer advisor to the Trump campaign that he was the subject of the warrant. One would think so reading the memo. Or is it because his contacts with Russia were such that not investigating him by the FBI would be a dereliction of duty. I suggest the latter is the case. Here is a background on the Russian Stooge the FBI went after.
Page is no stranger to Russia. He worked as an investment banker there for three years in the 2000s.
In 2013 Page met with and passed documents to a Russian intelligence operative in New York City in 2013. The Russian intelligence operative named Victor Podobny was later charged by the US government alongside two others for acting as unregistered agents of a foreign government. The charges, filed in January 2015, came after federal investigators busted a Russian spy ring that was seeking information on US sanctions as well as efforts to develop alternative energy. Page is an energy consultant.
Also in 2013 he wrote: "Over the past half year, I have had the privilege to serve as an informal advisor to the staff of the Kremlin in preparation for their Presidency of the G-20 Summit next month, . . . "
On March 21, 2016, Trump announced his foreign policy team:  "Trump's team of foreign policy advisers, led by Alabama Sen. Jeff Sessions, consists of counter-terrorism expert Walid Phares, energy consultant George Papadopoulos, former Defense Department inspector general Joe Schmitz, managing partner of Global Energy Capital Carter Page and former Lt. Gen. Keith Kellogg. Trump spokeswoman Hope Hicks confirmed the names to CNN." (emphasis added) 
Doesn't it appear strange the foreign policy team to Trump has a guy who few heard of?  A guy who claims he is an advisor to the Kremlin? A guy who has been in Moscow speaking against America. But it gets worse.
In July 2016 Carter Page took a trip to Russia and met with Russian officials. Prior to this being disclosed Page had constantly denied meeting with any such officials. He made a speech in Russia during this visit "that criticized the United States and other Western nations for a "hypocritical focus on ideas such as democratization, inequality, corruption and regime change" in Russia and in other parts of the former Soviet Union."
Page sent an email to "the campaign that said "in a private conversation, [Russian Deputy Prime Minister Arkady] Dvorkovich expressed strong support for Mr. Trump and a desire to work together.""
In mid-August we learn that Kellyanne Conway has taken the place of Paul Manafort. She becomes the Trump campaign manager.
In September, Kellyanne Conway, Mr. Trump's campaign manager, said that Carter Page was not part of the Trump team. "I have not spoken with him at all, in fact, meaning he's not part of our national security or foreign policy briefings that we do now at all, certainly not since I have become campaign manager.""
It appears that Carter Page's association with the campaign began as early as March 2016. Coincidentally another Putin crony Paul Manaford joined the Trump team during the same month. Page's official association probably ended prior to mid-August 2016 around the same time as Manafort's. I'd suggest it is fair to say it lasted for no more than five months.
In October, according to the MEMO, FBI FISA surveillance on Carter Page was authorized.
On December 8, 2016 it was reported that Page was back in Russia. The article noted he: "was close lipped about the purpose of his visit, telling RIA Novosti, a Russian state-run news agency, that he would stay in Moscow until Tuesday and would meet with "business leaders and thought leaders.""
The MEMO states: "a FISA order on an American citizen must be renewed by the FISC every 90 days and each renewal requires a separate finding of probable cause."
Ninety days after October 21 would have been in January 2017. Between the first issuance and then we know from public records that Page was back in Moscow.
Those are things we know about Page as reported in the public media. Obviously he had deep connections in Russia. He lied about his connections until finally confronted with a memo at a congressional hearing when he admitted that he had been meeting with Russian officials.
We know that at the time of the first FISA warrant against Page that he no longer worked with the Trump campaign. We also know from the MEMO that an FBI counterintelligence investigation against George Papadopoulos was opened in late July 2016.  News sources suggested that happened upon the news that Papadopoulos had bragged that Russians had information on Hillary Clinton's emails.
Now what I'm writing about is what is known publicly. I'm sure the information in any application or affidavit is much more complete and extensive than what we know. If what is known publicly is almost sufficient for the probable cause belief that Carter Page was involved in some skullduggery with Russia I suggest it would take very little more, which I am sure the FBI had, to secure a FISA warrant.
Any issue about the FISA warrants not being based on probable cause is clearly made up of whole cloth. Carter Page was no American citizen picked out of the blued because of his Trump relationship. He was on all appearances a Russian stooge with past connections with a Russian spy ring. It would be wrong not to target him to determine the extent of his dealings.