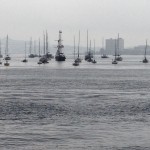 When I wrote my last post: "Whitey The Ordinary — Just Another Hoodlum Who Didn't Grow Up" I had no idea of the hiatus that would occur between that post on September 16, 2013 and now. The reasons for the silence are a special assignment I undertook that totally kept me away from the computer and any writing; and on top of that a joyful out-of-state addition to the family.
These events necessitated that I put distance between myself and the subject matter of this blog. Perhaps my post noting the ordinariness of Whitey was an auspicious stepping off point. As time passed and distance widened I began to see more clearly the basic banality of Whitey Bulger the man. Much more interesting than the person are the events that conspired together to take such a commonplace criminal and elevated him to the point he became some sort of criminal extraordinaire. Those are the events I hope to focus my efforts on explaining.
Trying to write anything else about Whitey himself is a waste of time. No man, who has in reality done so little of any merit, has ever had so much trivia written about him than Whitey. What is there about the man that is worth emulating or admiring? Absolutely nothing. He is a debased man devoid of any redeeming qualities.
The only matter of interest that remain is how such a low life came to occupy such a position of prominence. Could it only have happened because of the unique circumstances in Boston? That is a subject worth exploring. But to spend any more time on Whitey the person is of little value.
Now when I think of Whitey I think of how the George Zimmerman affair was thrust into the national spotlight as if gun murders were a rare event in America. In 2011 there were over 6,000 murders with handguns in this country. Zimmerman gained prominence because some made it into a racial murder, that is the white murder of an African-American youth, when that wasn't the case.  Some suggest that the DOJ added its two cents worth.
Take away the medias shouting and it is just another one of the 367 handgun murders in Florida in 2012. The absurdity of making this into more than it was clearly shows how something quite mundane assumes an air of importance. Two uninteresting persons struggling through life become daily news fodder. As late as this week we find ABC News tells us his wife is having difficulty serving him with divorce papers, his mother-in-law accusing him of stealing a television, and NBC news has all of America listening to his wife spell out their domestic woes.
That is the magic of media. The capability of making a boar into a prince and a sow into a princess. Or, in Whitey's case, the ability to put a shine on a sneaker.
Another reason to move on is that Whitey is really yesterday's newspaper that is good for little more than putting aside in its special bin and waiting for the recycling truck to take it away. Whitey is living, if it can be called such, in a 24-hour-a-day well lighted cell with jailers, like voyeurs, watching his every move. His only hope for the future is that his next cell may have a more comfortable mattress. All he is now is a mechanism through which people can make money. He will be sentenced to die in prison.
As a person he should have as much relevance to us as a passing cloud. We'll read more about him but it'll all should have as much interest to our lives as George Zimmeman's wife's appearances on network television.
Yet we will be treated to news about the victims' families  looking for more money with the help of the DOJ. We saw how the DOJ in the Caswell Motel case tried to steal a motel from its long-term owner. I wouldn't be surprised to see it try to seize Billy Bulger's pension to compensate the victims of Whitey. After all, the prosecutors are convinced Billy had a hand in all these matters.
The recipients of Whitey's letters from the jail house are seeking to make money off of them. They are offering them on eBay. The DOJ will be seizing them and having its own auction.
We'll be treated at sentencing time to the parade of family members each clinging to their last minutes of fame gained through Whitey's notoriety pouring out their venom on him both in court and outside patiently lining up to regurgitate their statements to the television cameras. Their newsworthiness gained through no merit of their own but through their misfortune means they too will quickly fade into obscurity.
Then, of course, we'll hear of the sentence imposed by the court. It will amount to hundreds of years, as if anything over 5 or 10 for an 84-year-old person matters. Perhaps, some interest will be warranted in the proceedings if Whitey decides to make a statement in his own behalf. And I'd suggest there is a good chance this might happen.
Whitey won't let the sun go down on him without a final goodbye. He had deluded himself into believing that he has something worthwhile to offer us or that there may by a sympathetic ear to any of his complaints. Why shouldn't he when so much has been written about him?
I'd suggest that anyone expecting the truth from him should look elsewhere. If he had an ounce of decency he'd leave quickly and silently. It is time to let him go and to try to understand how it was that such a vile person caused such a commotion.  I get the feeling that the Whitey saga was a betrayal of Boston.