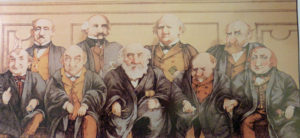 Trump is not sleeping well. He has judges on his mind. He's fighting a desperate battle to keep his financial affairs hidden. He was in Tokyo a day or two ago but he was up early.
Here's are Trump's latest thoughts on judges:
Earlier last week Judge Amit Mehta found that Congress was in its right to subpoena financial records of Trump. In one of his impromptu talks to the media on his way to some event or another Trump said:'We disagree with that ruling. It's crazy." . . . "We will appeal it. "It's totally the wrong decision by, obviously, an Obama-appointed judge."  (my emphasis)  
On the 24th Trump tweeted: "Mitch McConnell and our Republican Senators have been very solid and strong. We have accomplished a great deal together, in particular with our Courts, 107 Federal Judges….(with many more to come) and 2 Supreme Court Justices – we are getting into record territory! Thank you all and have a great Memorial Day Weekend."  
On the 25th @realDonaldTrump sent out this tweet: "Another activist Obama appointed judge has just ruled against us on a section of the Southern Wall that is already under construction. This is a ruling against Border Security and in favor of crime, drugs and human trafficking. We are asking for an expedited appeal!" (my emphasis) The time stamp was  — ":"  That means this was posted by Trump in Tokyo at 4:35 AM. Is he all right?
Trump is obviously suggesting that Obama judges are biased and their rulings are not to be taken seriously, or as he says "crazy." This is a major jump in rhetoric by a president attacking a ruling by referring to the appointing authority which indicates to many of his followers that the judges are not following the law but are deciding cases based upon outside factors.
Amidst these references to Obama judges he then noted his many federal judicial appointments including two on the Supreme Court. These by implication he suggests will not be like Obama judges but will be Trump judges who will decide differently. What are we to make of such statement boldly telling people that there is no objective law? Is this what we want the American people to believe that judges are mere pawns of who appoints them?
Those strong Trump supporters are being given the signal that judges appointed by Obama are standing in the way of Trump's agenda. Sure he can appoint many as he is doing but the Obama judges will still be there to infect the judicial system. Is this his way of suggesting to his true believers they might want to do something to change the situation?
It is not far-fetched to think that Trump wants to bring the judiciary under his control. He has several cases going to the Supreme Court where he is trying to stop parties from responding to Congressional subpoenas. Is there any doubt he'd feel better with one or two more of his judges on that Court?
Trump's rabid followers are capable of many things. "Charisma magazine, the leading media voice of Pentecostal and charismatic Christians, has run at least half a dozen articles contemplating the possibility of an imminent civil war in America." according to this article. This  idea of violence has been encouraged by Trump who said: "I can tell you I have the support of the police, the support of the military, the support of the Bikers for Trump – I have the tough people, but they don't play it tough — until they go to a certain point, and then it would be very bad, very bad. "
I suggest in these days where Trump is in danger of losing some significant cases that we may be at that "certain point." It may be wise for Secret Service Agents to be assigned to guard at least the four Supreme Court justices who vote against Trump's team. it may even be necessary to extend the protection to all those he attacks or are appointed by Obama.
That was would be something quite new in America; but a president attacking court decisions based on who appointed the judge is also something new.