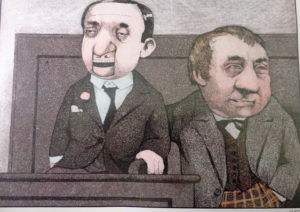 Having done many, many investigations as a prosecutor and a few as a defense lawyer I wondered why anyone suggested that you need an underlying crime to have an obstruction of justice crime. I could not answer it based on my experience as a defense lawyer because I was defending someone accused of a crime and never defended anyone who was charged with obstruction of justice where no crime had been committed.
On the other hand as a prosecutor where I spent most of my time I suggest the answer is quite easy. It is contained in the statement itself: "obstruction of justice."  The crime is not "obstruction of a crime" but of justice. I suppose the best way to begin is to look at the federal statute, It is quite broad:
Under 18 U.S.C. 73 there are 21 general categories that are considered obstruction of justice. Section 1503 reads: "Whoever corruptly, or by threats or force, or by any threatening letter or communication, endeavors to influence, intimidate, or impede any grand or petit juror, or officer in or of any court of the United States, or officer who may be serving at any examination or other proceeding before any United States magistrate judge or other committing magistrate, in the discharge of his duty, . . .  or corruptly or by threats or force, or by any threatening letter or communication, influences, obstructs, or impedes, or endeavors to influence, obstruct, or impede, the due administration of justice, shall be punished. . . ."
Reading that statute it is clear no underlying crime need to exist. Nor does is it make any sense there would have to be an underlying crime. Having done investigations I know that sometimes the investigation will lead to the conclusion that no crime has been committed. Let's look at it in more simple terms by me describing situations I handled but adding to it a letter by Bill Rodney.
I'm sitting in my Norfolk DA's office and I learn a fire occurred at a Larry Tucker's restaurant on Southern Cross Avenue, Braintree.  Several days later arson investigators show up. They present me with evidence that they found accelerants in three widely separated places in the restaurant which would indicate it was a set fire, an arson. They ask us to assist in the investigation. I assign a couple of our detectives to work with them.
They receive a letter from an anonymous person suggesting a friend of the owner named Joe Blazer set the fire. They spend a great deal of effort in tracking down Joe's prior movements; and do a financial analysis of Larry Tucker and his restaurant. They want to know if he owes money, is a gambler or a drug user, etc.  They want to talk to Joe in person so they head off to Florida to do that.
While they were doing their investigation I get a call from Larry Tucker's lawyer who wants to meet with me. He has heard we believe the fire was set and are looking at his client as having been involved in doing it. He brings in records to show me Larry's doing well with the restaurant along with other things that cause me to question the initial findings there was an arson. I ask that the accelerants be sent to the ATF laboratory in Washington, DC to get a better read  on the type of accelerant used.
While my detective are in Florida I learn from the ATF that what the arson investigators found was tar which had dripped from the roof because of the intense heat of the fire. Not having separate places of origin along with no motive, it was clear there was no arson. I make contact with the detectives in Florida. They tell me they had just interviewed Joe. He denied any involvement. He said there was a guy back in Braintree that had been harassing him for years name Bill Rodney and he was probably the one who was trying to implicate him.
When the detectives came back they confronted Bill. He admitted he sent the letter because he hated Joe, wanted to get him in trouble, and knew nothing about the fire.
As you can see this is a case where there was no underlying crime but there was obstruction of justice.