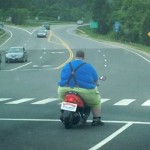 Today, as I mentioned, before the start of the day Howie Carr called to J.W. Carney who was sitting at counsel table, he beckoned him to come to him which Carney did, and they engaged in some conversation for no more than fifteen or thirty seconds. Howie turned away with a big smile.
The reason I mention this again is to indicate that Carney was aware Carr was in the courtroom and was in the position to listen to his partner in the book business, John Martorano testify.
Originally Carr was sequestered from listening to the testimony of witnesses which order Judge Casper lifted as regards him. The idea behind sequestering is that you don't want one witness, who I'll call Howie, to know what the other witness, let's call him John, with whom he has a close relationship like a partnership, to be able to tailor his testimony to agree with the first witness.  So if John testifies a car in question was red, you don't want Howie to know he said that. So when you ask Howie about the car's color he won't say red just because he heard John say it.
Sequestering gives us the best chance to get at the truth. You can never totally prevent people from conspiring to keep their testimony from mirroring each others, but the chances of being able to do it under all circumstances are lessened by keeping persons who will be witnesses in a case ignorant of the ongoing testimony.
When Martorano began testifying today Howie was listening to him. Freddy Wyshak, a clever prosecutor who likes to throw all the bad stuff on the table right up front, in the early minutes of Martorano examination asked him if he considered himself a Hitman. You know that is the title of the book he has written in partnership with Howie Carr. Martorano of course denied he was a hitman. (I could only imagine how Wyshak must have hit the roof when he saw that title and the book itself when he first heard about it.)
Why didn't he consider himself a hitman?  He responded that hitmen make money for murdering people. He never murdered anyone for money. I thought he was going to add he just did it for fun. Yet the evidence will show he was paid to murder people but he says he was not paid for the murder but reimbursed for the expenses of the murder.
So Wyshak asked him, how did the title Hitman come about on the book in which he had a 50% stake. Oh, that? Well that was Howie Carr's idea – he thought it would be good for the sales.
Now we've just seen this act before. It was with Tom Foley who wrote a book Most Wanted. He made clear that he was not responsible for all of the things in the book under his name. His co-author put things in that he didn't agree with. Some of them he said he didn't remember seeing.
So defense counsel is standing there holding a book the witness has written and when he goes to show the witness is contradicting himself, the witness suggests he isn't because the other person put that in and not him. It was similar to watching Dickie O'Brien testify today who suddenly developed amnesia and couldn't remember anything on cross-examination.
Now Martorano is going to do the same thing. Where the book impeaches his present testimony he'll suggest that Howie Winter, I mean Howie Carr, (Winter was also a partner of Martorano so it's easy to get confused) was responsible for those things that seem to make his present testimony perjury. Anytime what he says in the book contradicts what he is testifying to in court, he'll blame Carr.
Now it seems to me fairly obvious that you don't want Carr listening to his testimony on these points. You want Carr to come in ignorant of where Martorano is throwing the blame on him so that you can test the truth of Martorano's assertions. If Martorano says I never said Tony Veranis ducked down as it says in his book you don't want Carr to know that. You want to ask Carr what did Martorano tell you about murdering Tony Veranis. You'll never reach the truth with the way things now stand.
At the end of each session today Judge Casper asked the defense attorneys if they had anything for the court. I expected them to rise and suggest that Carr be sequestered because of the danger he will tailor his testimony to what Martorno is saying. But Judge Casper was told by defense counsel they had nothing to bring to the court's attention.
That caught me by surprise. It seems fundamental to the idea of sequestration that Carr who is on the defendant's witness list not be allowed to hear the testimony of the guy he will be asked questions about; nor should he be able to hear any testimony. The other reporters are not in the same position and they should be allowed to attend because they did not interview other main witnesses. Martorano is one of three crucial witnesses.
There might be a First Amendment Right for reporters to attend a trial; but there is also a right implicitly granted in the Fifth and Sixth Amendments to a Fair Trial.