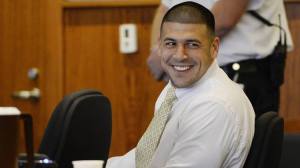 The other day a lawyer for the family of Odin Llyod told the news media he planned – well better that I quote him. "We will also call different witnesses in the civil case, including Mr. Aaron Hernandez, and when we do he will no longer be able to hide behind any sort of Fifth Amendment rights against self-incrimination because he is already convicted of the crime."
Now I don't know the lawyer. But I do know when a lawyer is spouting a lot of nonsense and his statement is at the top if the BS pile. Now maybe he just doesn't understand what he was talking about because his practice is not in the criminal arena but even if that is the case he should know there is no chance that he will ever get Aaron Hernandez to testify.
First, Hernandez's Fifth Amendment right is still very much alive since his case is on appeal. Until such time as his appeal is heard, his conviction is not final. If he were to die before the decision on appeal, his conviction would be vacated. You may remember the guy, John Salvi, who shot up the two clinics in Brookline where abortions were being performed. He was tried at superior court in Dedham and found guilty. He appealed. During the appeal he killed himself. The guilty findings were set aside.
Assuming Hernandez does not take his own life, which if he did he would not be available to testify in the civil suit, and assuming his conviction is upheld on appeal, then would he be required to testify?
Of course not. He may or may not have a Fifth Amendment right but there is no way to compel a person serving a sentence life in prison to testify. (Even after a conviction is upheld on appeal a Fifth Amendment right may still exist since the right to request a new trial or seek another appeal may preserve it.)
We are familiar with the idea that a person without Fifth Amendment rights can be compelled to testify. He refuses, he's brought before a judge who orders him to testify, he refuses, he's held in contempt, and sent to jail (or in Hernandez's case back to prison) until he agrees to testify.
The stick that gets the testimony is the confinement. If someone is already confined for life there's no stick. Holding Hernandez in contempt would be a futile action.
Assuming, which one must do when it comes to judges, that one judge could be found who would waste court time in this endeavor. And suppose further that Aaron's sentence is reduced to second degree murder by the Supreme Judicial Court (it finds the firing of the many bullets does not justify a finding of extreme atrocity and cruelty) and he is not convicted in Suffolk of the other two murder charges. He would be eligible for parole in 15 years. Could it then be argued that the contempt sentence would the run after the time he is scheduled to be released and therefore it had some teeth?  It is doubtful because within that time period the civil case would have been concluded which would automatically vacate the contempt sentence.
Sorry to disappoint you, so keep on breathing.