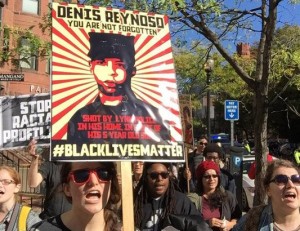 My observation from afar is that "Black Lives Matter" (BLM) is a group of people made up of the members of the white and black races and all the races that occupy a position somewhere between those opposite colors. (See photo left of a recent demonstration on Newbury Street.)
The BLM group in Boston was founded by Daunasia Yancey, age 23. Daunasia grew up in the South End, went to the Newton Public Schools courtesy of METCO program properly described as: "Boston's imperfect attempt at desegregation." She became quite a handful during her school days. When she was told to tone it down a bit because she was too loud or aggressive it meant to her she  was "too black."
It would be a great understatement to suggest that she walks to the beat of a different drummer. There is nothing in the March 2015 Boston Magazine article to suggest she graduated from high school, went to college or ever held down a job. Or to put it another way, she seems to have been educated in the college of hard knocks. How she survives is not disclosed but what seems clear is that she is her own woman and is not interested in the opinions of others.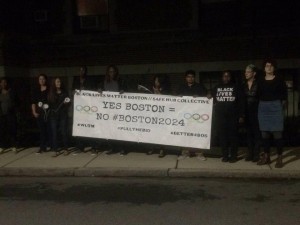 It seems that at 4:00 am on a day last month her group BLM decided to stage a rally outside the home of Mayor Marty Walsh. They  were there "in order to bring him a long overdue wake-up call" to tell him "our city deserves better than the Olympic games."
Many, including the mayor,  have rightfully expressed their indignation that they elected to hold a rally 4:00 am disturbing the neighborhood.  I suppose the connection between the issue that gave the group its name (the shooting of blacks by cops) and the issue that brought out their early morning ire (the Olympics) is that the tons of public money that will be spent on the Olympics (don't believe that there won't be several billion) could be better spent elsewhere.
I may be going a little too far in suggesting that connection because as sometimes happens when these protests occur little logic goes into the reason for them. They sometimes occur because someone gets an idea on how to get publicity which happens to stoke the interest of a few. They act on it without any further thought.
This protest at 4:00 am involved less than a dozen people who stayed around for about five minutes. The disturbance was really no more noticeable than that caused by one of those disgruntled dogs who decides to bark at the same hour. It should have passed like that. Everyone who  was awaken quickly returned to his or her slumber.
Instead, the Herald's Joe Fitzgerald brings it up in his column on July 6  saying: "where was the harsh reprimand, the indignation, of political and clerical leaders in the black community, normally quick to spring to any available microphone?" That might be a fair question if BLM was a black group. It isn't. It is made up of all races.
Why then Fitzgerald is demanding that the black leaders step forward to condemn this rally and suggesting they are negligent in not doing so? This isn't a group under their control anymore than it is controlled by any other race. I'd suggest it is pretty dumb for Fitzgerald to be calling out the black pols and clerics on this matter. Even dumber is his question: "Why is it so difficult for leaders to tell them [protesting at 4:00 am is not OK] that?" How did they become BLM's leaders?
Fitzpatrick starts off his column writing: "Speak against the reprehensible antics of the Black Lives Matter crowd here in Boston and it's seen as bogus proof that you must be ignorant, hateful and racist if you're white; . . .  there's another form of expression far more toxic in volatile times such as these, and that's the stony silence of timid souls who'd rather abide unacceptable behavior than call it what it is."
Fitzpatrick, who is white, does give currency to the notion of being "ignorant, hateful and racist" when he condemns the black leadership of Boston for its "stony silence" when it had no dog in the fight and when he wrongfully calls that leadership "timid souls."  Perhaps on this matter in these volatile times the stony silence should have come from Fitzpatrick.