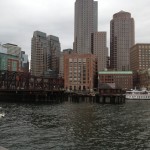 I'm coming out of the courthouse yesterday and I bump into this guy who knows a ton about what is going on in the case. He's one of the few guys I really respect. He's an independent thinker. We disagree on some pretty important things but like with the people who come to this blog we discuss them in an open  manner without rancor and remain friendly.
He says "Whitey's not going to testify."
I'm surprised because immediately prior to him saying that I was walking down the steps from the second floor to the lobby and I experienced the first shadow of a doubt pass over my mind about whether he would testify. The first thing I hear as I'm trying to get out from under the shadow was his voice as if he was reading my thoughts.
I said smilingly: "You're wrong again. It's a lock," but I didn't have the conviction that I had up until minute before.
He frowned saying: "Didn't you see the coverage of Fitzpatrick?" I knew what he was referring to, it was all one-sided.
"Why would Whitey want his story to be all twisted like that?"
He had a point. Much of the media is so maniacally one sided that with Fitzpatrick it was reporting the prosecutor's questions without the defendant's answers as if the questions were evidence. The public was getting a skewed picture.
I said, thinking of my suggestion that he testify to his story and return to the defendant's chair and refuse to answer questions, "there's a way to avoid what happened to Fitzpatrick."
He's quick – so he fired back, "you mean he'll do what Weeks told me he would do, tell Wyshak "F.U." whenever he asks a question?"
I replied, "something like that."
He said: "won't work. The media will still write the story the way it wants – it won't need the cross — every assertion Whitey makes they will editorialize about it and give the other side – you'll read something like 'Whitey denied he was an informant but the overwhelming evidence showed that he was.' None of Whitey's favorable evidence will be reported but all the government's negative stuff will be repeated over and over."
I knew he was right. I've watched it happen. Yet in rebuttal I said, "yeah, that's a chance he has to take but he's got to tell his side of the story. This is about his legend. I've said that."
He said, "Didn't you post in your blog to him telling him that when testifies "the media will mock your every answer " and said he would be "a laughing stock.:"
I admitted it: "I did say something like that. But then I wrote about what he wanted – that he's not an informant and didn't kill the women."
"Maybe he figured your first suggestion was best and he's come around to your way of thinking."
Then he paused and looked around as if to see if anyone was in ear shot. He said, looking me square in the eyes, "Don't you know what this trial is all about?"
I said, "Come on, Come on" indicating I hope he wasn't serious. How could he think I didn't know what it was about. Hell I'd been writing about it for over a year.
"From Whitey's perspective, not the government's," he said.
"What do you mean?" I asked perplexed.
"I think you've missed it,"  he said.
"I doubt it," I replied a little defensively and feeling a little stupid.
"You've been talking about figuring it out all along. You said you had to study defense counsel's cross- examination to figure it out. Did you do it?"
"Not really," I said, "I forgot about doing it."
"Don't you think that'd give you a clue to whether Whitey will testify?"
"Wait," I said, "now that you mention it I did look at some of it. I remember they were staying away from all the murders and that was one of the reasons I thought he would take the stand."
"Your focus was too narrow, you should have broadened it. If you did you'd see that the cross was not for the purpose of having the jury acquit Whitey – he knows he doesn't have a chance, in fact his lawyer conceded as much in his opening – the cross was done to fill in the gaps in the book he is writing."
"He's writing a book?"
"Absolutely, as you'd say it's a lock."
"They won't let him – the Bureau of Prisons won't let him get his story out."
"It's too late, he's just about got it done, by the time all this is over Carney and Brennan will have gotten him everything he needs to fill out his tale."
"So you're telling me the trial was all about getting information for his book and the book will be his legacy,?
"Can you think of anything better?"
"BOP won't let him publish it."
"Won't matter, he won't be the author. Someone in his family will."
"Billly?"
"No, he's got a big family – lots of nephews and nieces – all quite well-educated and skilled. They'll write it. It'll be the only book worth while that comes out of the trial."
All I could say was, "Even better than Fitzpatrick's planned book."
He laughed and said he had to go. So did I. I had to sit down and try to figure this out again.