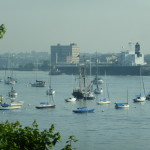 Ah, yes, the morning will begin listening to a swine schpeeling his swill into the public. Remember this is a guy to whom lying is second nature so nothing he says can be believed. Any guy who would kill a young woman who he has abused since her teens and then kill another young woman who he drove into drugs and prostitution by defiling her should not be seen in public, preferably would have been executed and I'm not big on the death penalty but if any case called for it his does. It insults our court system and our society that such a pig is allowed to take an oath. I've argued before that some people, very few, should be locked in the deepest pit of a prison we have and left to linger on bread and water.
He has pleaded guilty to murdering ten people but he has murdered many more. He was one of the Mafia's hired guns who tried to murder a lawyer who represented a cooperating witness; who gunned down a man going to his brother's trial waiting at a bus stop; who murdered a friend who fled from Boston with him to keep him company after he was indicted for murder and tried to bury him in the desert sands outside Las Vegas. His depravity knows no limit. And to think he is a witness for the United States.
So he'll lie and lie. He testified before Judge Wolf over ten years ago and lied then. Asked who was his connection in the state police who leaked him information, he didn't refuse to answer or tell the name of his true source, Richard Schneiderhan, his boyhood friend; he used the name of a state trooper who he and his FBI buddies tried to sent to prison, John Naimovich, and whose untimely death they ultimately caused.
He's already lied in the ten or so minutes he was on the stand yesterday. He had been indicted for blowing up Attorney John Fitzgerald's automobile and for McLaughlin's murder while operating under the protection of the FBI. He fled and was charged with being a fugitive from justice. He went to the West Coast and then returned to New York City before going on to live in Montreal. During this time he maintained contact with the FBI. In May 1974  he returned to do duty for the FBI in exchange for the charges against him being dismissed.
He testified that he became an informant in late '74 or early '75 when Whitey brought him to a meeting with John Connolly and Dennis Condon. He seems to have forgotten the deal he made with Condon that if he came back and worked with the FBI they'd get the charges against him dismissed. But we see what is going on from this alone. This vile man under the government's umbrella, which he has always been under, knows that to justify his existence, for he should have been fried in Texas or Oklahoma, or both places if that is possible, he's got to be some sort of underling to Whitey.
"Was Whitey more overbearing and forceful than you?" Wyshak shamefully asked him. "Yes," he replied. It's makes one skin crawl with the government trying to downplay its witness's evilness. A true disciple of Satan sitting in front of everyone is pointing his blood stained finger at another and telling us he was forced to be vile and rotten because of another. But he didn't know Whitey when he was gunning down people in the Irish gang war or working as a hired hitman for the Mafia.
This is one thing that has always bothered me about this case. Murderman, Benji, Fortnight, and Weepy John may be necessary to have as witnesses, but don't pretend they are other than what they are. I never understood these agents of the government becoming buddies with them and laughing at their jokes as if their lives of filth never happened. Use them as witnesses if you must, but don't treat them other than as the worst people in society.
One big question remains, why is Benji Ditchman testifying against Whitey?  I know what he said, it's to avoid the death penalty. But that's no longer on the board, Oklahoma and Texas have sentenced him to life in prison and there is no way they can turn around and make it death. Look at Benji's friend Billy Kelly who is on the Florida death row. He's been there 15 years so even if they could vacate the life sentence and try to get the death sentence imposed he'd be dead before they could kill him.
He could very well have said to the prosecutor before he got on the stand I won't testify. Nothing can be done to punish him further, except perhaps put him in a more cruel environment – by the way if we really believed in our Bill of Rights and looked at the Eighth Amendment I'd suggest prisons like ADX, Florence, Colorado, which a former warden described as the closest thing on earth to hell, would fit nicely into the definition of cruel and unusual punishment – not that some of these people don't deserve that — but we are supposed to be guided by the Constitution.
Why he refused to refuse to testify is something that makes me uneasy. I can't help feeling there's a side deal here. That someday this man may be let back out. Nothing we can know about that now.
But what we can know is that nothing Benji says should be believed. The sirens of the four car caravan which makes its daily run from Plymouth to Boston carrying Whitey and an assortment of others should shortly fill the air. It's time for me to go into the courthouse and stand in line to watch evil expound.