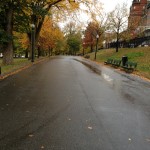 The mood is just about right on the Boston Waterfront. The heavens weep that our government has sunk so low as to put a seriously disturbed man on the stand as its last witness. Steven Flemmi, also called Benji Ditchman because his innards are filled with the swill that flows through the benji ditches in Japan; or the Vilefulman, a name he came back from Korea with allegedly having served in combat but I've yet to hear of him having a medal, not even a Purple Heart, never mind three of them like our Secretary of State; or as some prefer Sewerman's Scumbaggery which seems a little too refined for the man.
Hank Brennan has become the trigger man for the defense. Carney and Brennan (C&B) have a different style of cross-examination which makes them a highly effective team. Carney's is more the subtle "wolf in sheep's clothing" spider-type where he lures the unsuspecting victim to her demise with nice words and smiles easing her ever more tightly into his web just like the spider and the more the witness struggles to escape the tighter Carney wraps the silk of her deception around her.
Brennan on the other hand is like his distant cousin, Trigger Burke. He comes in spraying .45 caliber slugs from a grease gun at the witness and when she falls he comes in with his boot and gives her a couple of shots in the face. All the time maintaining the appearance of an innocent youth out walking along seeking answers.
C&B have what appears to be an excellent relationship between themselves, each man appreciating the other. Much credit for this goes to Carney, the elder, who could resent giving Brennan a chance to shine yet encourages him and basks in his intrepidness. I'm sure much time was spent on analyzing each witness and deciding whose style would fit best in doing the cross-examination.
We say yesterday that in the 12 minutes Brennan had available to him Benji was no longer sitting back calmly following the script. He was being forced to look at his life unlike what anyone has ever done before to him. His artery in his neck throbbed as he tried to explain his daughter was not his daughter and that during his flight she had had changed. She had become all of 16 years old when he came back, ripe for his plucking.
It wasn't his fault he had sex with her – consensual sex he let us know – consensual sex with a young girl who called him daddy – how vile. It was a different time – she used drugs and dressed in an aluring way – it wasn't his fault – she made him do it. "Whitey murdered her, not me," he says as if planning to murder his daughter and letting someone else do it exonerates him from blame. It's the old excuse of utterly corrupt men, "I was just following orders."
Just like Whitey made him lure his girlfriend Debbie Davis to her death – she also apparently deserved to die – he is so low that he had to slander her family by unnecessarily saying her brother was a drug user as if that was a reason for him to murder her.
The tragedy of all this is Benji was never necessary as a witness to convict Whitey. There were mountains of evidence against Whitey before he came along. There were also landfills of evidence against Benji to show he was up to his ears in murders. He was absolutely unnecessary to the prosecution of Whitey or anyone else. He, above all others, should have been prosecuted. Why would the federals, the representative of the United States, besmirch the name of our fair land by having this man as part of team USA? I truly cannot figure this out.
There is something that we do not know that  brought this about. We will figure it out. Maybe during cross-examination we will get a hint about it. That time draw nears. I have people who disagree with me whether Benji had a good night sleep knowing Brennan was lurking in the bushes ready to spring out at him this morning and flail him. We'll know shortly.  I'll try to keep you updated.