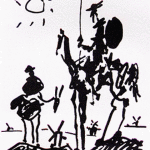 A reader from the auld sod said Whitey would be described in the home of my ancestors as "a cute old hoor" in response to my suggestion that he may just give his testimony and refuse to be cross-examined. Perhaps he'd find there was much to my suggestion as he sat through yesterday's thrashing of his former buddy, Stevie Flemmi. If the government has on its side anyone with half the cross-examination skill of Hank Brennan, he's likely to leave the stand a bloody mess.
But that's not necessarily a given, prosecutors are not as skilled in the use of cross-examination as a defense lawyer. If Whitey thwarted off their questions, it might come out all right for him; however, the media with its rabid anti-Bulger bias, after all both major newspapers have survived playing up the Bulger Boogieman phenomenon to frighten its readership, would do its best to make it look like he was well beaten up.
It is important to keep in mind a definition of the Big Lie. It is that "because the broad masses of a nation are always more easily corrupted in the deeper strata of their emotional nature than consciously or voluntarily; and thus in the primitive simplicity of their minds they more readily fall victims to the big lie than the small lie, . . . " The Boston media has used it to great effect when it comes to the Bulgers
Yes, Bulgers, plural. I don't have time to go into the history but it began with the Boston Globe around 1988 and with the Boston Herald when its savior and the radio host Howie Carr stole Judge Daher's description of Billy Bulger as a Corrupt Midget and cleverly used it to build his audience of begrudgers. That it was the impetus of the prosecutor Wyshak in bringing the case was shown by his statement in answer to a question where did FBI Agent John Connolly go wrong. He said "he got too close to the Bulgers and South Boston."
Motivated by error Wyshak started out on his crusade and we arrive at the penultimate moment of the prosecution's case with Stevie Flemmi still on the stand and the good thinking people of the world astonished that such a man could be put on the stand as a witness for the United States. Decency bows her head in shame outside the federal courthouse in Boston.
What hadth Wyshak accomplished in his quixotic quest to bring Whitey to heel? He has made the City of Boston a much more dangerous place. It is the only place on earth where men who have murdered at least five persons are allowed to roam free. It is the only place in America that has produced so many serial murderers against whom little or nothing has been done by the authorities.
Before going on to them, Wyshak's obsession with South Boston is totally misplaced. As I go through the people left on the street who are murderers, I'll also tell where they are from or where they ran their little racket and put in parenthesis the minimum number of murders they are believed to have been involved with or committed.
Johnny Martorano (20) from the Roxbury gang operated in Roxbury, Dorchester and the South End (not to be confused with South Boston); Stevie Flemmi (20) from the Roxbury gang operated in Roxbury, Dorchester and the South End; Frankie Salemme (10) from the Roxbury gang operated in Roxbury, and the South End; Howie Winter (10) from the Somerville gang operated in Somerville; Jimmy Martorano (8) from the Roxbury gang operated in Roxbury, Dorchester and the South End; Pat Nee (5) from the South Boston Mullens gang operated in South Boston. Of the six men, five would join together as the Winter Hill gang.  Of the six, only one is in prison, Stevie Flemmi, and some suggest he has a deal to be released after he testifies. Of the six two are Mafia members. Of the six, five were hit men for the Mafia.
The one serial murderer left is the one on trial. He is from South Boston. He did control the rackets in Southie but beyond that little enclave, his influence is greatly exaggerated. He was allowed to operate not because he was any feared power, but because he was willing to do what the Mafia wanted especially when it came to murders.
Remember the famous words of Boston Mafia Captain-Strongman Larry Baione Zannino. "The Hill is us."  Need proof. The first five murders that Whitey is charged with doing were commissioned by the Boston Mafia through John Martorano and Howie Winter. Need more. Flemmi just testified he murdered two or three people and blew up the car of an attorney because Zannino told him he had to do it.
As for Whitey he may have killed the 19 he is accused of doing although I'd venture to guess he's down closer to 12 or 15. He's an evil man. He is where he belongs and he should stay there. Except for Wyshak's obsession, most if not all of the others should also be there. In a country where persons are executed for one or two murders, some committed during powerfully emotional periods, the idea that so many men with at least 5 premeditated  murders to their names walk the street must give one pause.
Perhaps Ralph Dimasi who got out of prison in March after doing 21 years for an attempted armed robbery had the best comment on the case. I've written it before but it bears repeating: ""federal justice, I'll tell you what it is, you have a guy who murdered 20 people walking the street and you have a kid commit one murder and they want him to get the chair. That's what dealing with the government does."