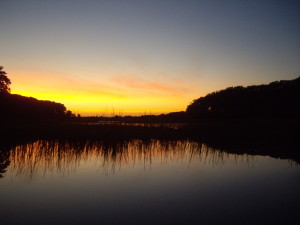 Some groups never accepted  the calendar named after Pope Gregory XIII, who introduced it in October 1582. This has resulted in Easter being celebrated on different Sundays. Far back In 325 A.D. the Council of Nicaea established that Easter would be held on the first Sunday after the first Full Moon occurring on or after the vernal equinox.  From that point forward, the Easter date depended on the ecclesiastical approximation of March 21 for the vernal equinox.
Currently the Gregorian Calendar is thirteen days ahead of the Julian Calendar. Beginning on 14 Mar 2100 (29 Feb 2100 Julian), the difference will be fourteen days but few of us will see that change. By moving March 21 up 13 days the first full moon may occur somewhat earlier and Easter will be celebrated differently.
On my Easter last Sunday circumstances made me unable to post. Had I been in a position to do so then this essay by Samuel Ullman would have been posted. So to keep with the spirit of the time I appropriate my wife's Easter to publish it which seems fitting for this time of year which is one of renewal and reflection.
Youth
Youth is not a time of life; it is a state of mind;it is not a matter of rosy cheeks, red lips and supple knees; it is a matter of the will, a quality of the imagination, a vigor of the emotions; it is the freshness of the deep springs of life.
Youth means a temperamental predominance of courage over timidity of the appetite, for adventure over love of ease. This often exists in a man of 60 more than a boy of 20. Nobody grows old merely by number of years. We grow old by deserting our ideals.
Years may wrinkle the skin, bu to give up enthusiasm wrinkles the soul. Worry, fear, self-distrust bows the heart and turns the spirit back to dust. 
Whether 60 or 16, there is in every human being's heart the lure of wonder, the unfailing childlike appetite for what's next and the joy of the game of living. In the center of your heart and my heart there is a wireless station: so long as it receives messages of beauty, hope, cheer, courage and power from men and from the Infinite, so long are you young.   
When the aerials are down, and your spirit is covered with snows of cynicism and the ice of pessimism, then you are grown old, even at 20, but as long as your aerials are up, to catch waves of optimism, there is hope you may die young at 80.
Happy Easter!